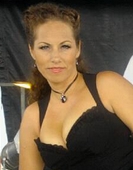 The place, Habanos Wine & Cigar Lounge. The date, Friday, April 26th. The time, 8pm to midnight. Join me and my band as we rock the house.
San Diego, CA (PRWEB) April 21, 2013
Habanos Cigar and Wine Café, San Diego's newest wine, cigar and dinner lounge, brings back the Mercedes Moore Band for a second appearance. She is performing at Habanos Friday, April 26th. Located on the corner of Rosecrans and Hancock Street, the entertainment will start at 8pm and run till midnight.
Here is what the San Diego Reader has to say about Mercedes Moore Band, "This is one hot singer! Blues Diva Mercedes Moore is burning down the blues clubs in Southern California."
Three large enclosed patios provide a festive ambiance for friends to enjoy the great blues music of the Mercedes Moore Band, friendly conversation, food, premium wines, craft beers and cigars. The center of the main patio sports a warm and inviting fire pit. Plenty of free parking is available. A friendly and knowledgeable staff will be there to answers questions about wine, beer and cigars and to serve customers.
As an added bonus the new beer taps are installed and ready to pour 8 premium beers from the local breweries.
"At the audience's request from her first performance, I am bringing back the Mercedes Moore Band for a second appearance here at Habanos," commented Wade Alkhouri, proprietor, wine connoisseur and cigar aficionado. "Mercedes rocked the house on her first appearance. So, if you missed it here is your chance to experience one of San Diego's great blues Maven. Looking for fun-filled evening of outrageous blues music? Then mark your calendar now to be here. The evening will be full of great entertainment, food, wine, beer and cigars."
"I am so happy to be invited again to perform for the audience at Habanos Café," commented Mercedes. "The audience at my first appearance was lively and fun. Café venues are perfect for my style of blues music. And this café has the ambiance that is made for the blues. I invite all my friends to join me and my band for a fun evening."
ABOUT MERCEDES MOORE BAND
Mercedes Moore band is made up of Scot Smart, (guitar) John Simons, (bass) Kurt Kalker, (drums) and Mercedes Moore (vocals).
2012 San Diego Music Awards Nominee for Best Blues, the music of the Mercedes Moore Band is reminiscent of the 50s and the 60s, and it is based on a harmonious combination of soul, blues and R n B and diverse rhythms that keep dancers moving and listeners grooving.
Mercedes is a super smooth blues singer with a great tone and a powerful stage presence. The music of the Mercedes Moore Band is like a breath of fresh bracing air for the true music lover.
EVENT INFORMATION
NO cover charge
Friday, April 26
8pm to midnight
Habanos Cigar and Wine Café
3111 Hancock St corner of Rosecrans
Just South of Hwy 8
619-692-0696
ABOUT HABANOS CIGAR AND WINE CAFÉ
Apx 3,000 sq. ft.
600 sq. ft. walk in humidor
The three large enclosed patios provide leather sofas, booths, tables and chairs.
The main patio sports a warm and inviting fire pit.
Patio 2 has a real wood burning fireplace
5 large screen TVs
Full Tapas kitchen
Huge premium wine and beer selection
8 premium beers on tap from local breweries
Espresso and specialty coffee drinks
Free parking
Hours of Operation
Sunday to Thursday 10am to 10pm
Friday & Saturday 10am to midnight