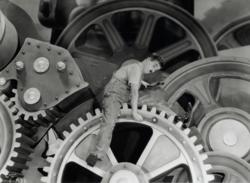 (PRWEB) April 20, 2013
Baltimore Symphony Orchestra (BSO) Music Director Marin Alsop leads the BSO in a performance of Charlie Chaplin's cinematic masterpiece Modern Times on Friday, May 10 at 8 p.m. and Sunday, May 12 at 3 p.m. at the Joseph Meyerhoff Symphony Hall, and Saturday, May 11 at 8 p.m. at the Music Center at Strathmore. This presentation builds upon the BSO's success of pairing Chaplin's famed films with his original scores, including past performances of The Gold Rush and City Lights. Modern Times is a satirical take on the machine age and is considered to be one of Chaplin's greatest cinematic and musical works. Please see below for complete program details.
Charlie Chaplin's satirical treasure, Modern Times, premiered in 1936 when the film's critique of industrialization was particularly poignant in addressing the poverty and social unrest rampant during the Great Depression. The movie features one of the silver screen's most memorable characters, Chaplin's beloved Little Tramp, in what many consider to be his very best performance. The Little Tramp plays a factory worker overwhelmed by the demands of the machines, police and harshness of the mechanical world surrounding him. Chaplin himself felt that "machinery should benefit mankind. It should not spell tragedy and throw it out of work." With his usual brilliance, Chaplin spun this serious warning about industrialization into a witty and biting comedy, which portrayed the atrocious conditions of the machine age through the Little Tramp's ever-amusing mishaps and gags.
Ironically, the film marks Chaplin's own transition into modern times as it was his last silent film and the final performance for the Little Tramp. By the mid-1930s, a new era of sound films was ushered in and Chaplin felt pressured to leave his silent films, and the Little Tramp, behind. Thus, Modern Times is a key moment for both Chaplin's career and the world of film, and it provides the perfect stage for the Little Tramp to take his final bow.
Although Chaplin was hesitant to move into the realm of sound films, as an avid music lover he eagerly embraced using sound technology to compose scores for his films. The music that Chaplin composed for Modern Times is regarded as his finest and most innovative work, and Chaplin's perfectionist spirit led him to create a score that "was so moment specific, so tightly synchronized, that one can nearly follow a Chaplin film by only hearing its score without the benefit of the image."
Marin Alsop, conductor
Hailed as one of the world's leading conductors for her artistic vision and commitment to accessibility in classical music, Marin Alsop made history with her appointment as the 12th music director of the Baltimore Symphony Orchestra. With her inaugural concerts in September 2007, she became the first woman to head a major American orchestra. She also holds the title of conductor emeritus at the Bournemouth Symphony in the United Kingdom, where she served as the principal conductor from 2002‐2008, and is music director of the Cabrillo Festival of Contemporary Music in California. In February 2011, Marin Alsop was named the music director of the Orquestra Sinfônica do Estado de São Paulo (OSESP), or the São Paulo State Symphony Orchestra, beginning in the current 2012‐13 season.
In 2005, Ms. Alsop was named a MacArthur Fellow, the first conductor ever to receive this prestigious award. In 2007, she was honored with a European Women of Achievement Award, in 2008 she was inducted as a fellow into the American Academy of Arts and Sciences and in 2009 Musical America named her "Conductor of the Year." In November 2010, she was inducted into the Classical Music Hall of Fame. Ms. Alsop was named to Guardian's Top 100 Women list in March 2011. In 2011 Marin Alsop was named an Artist in Residence at the Southbank Centre in London, England.
A regular guest conductor with the New York Philharmonic, The Philadelphia Orchestra, London Symphony Orchestra and Los Angeles Philharmonic, Ms. Alsop appears frequently as a guest conductor with the most distinguished orchestras around the world. In addition to her performance activities, she is also an active recording artist with award‐winning cycles of Brahms, Barber and Dvořák.
Marin Alsop attended Yale University and received her master's degree from The Juilliard School. In 1989, her conducting career was launched when she won the Koussevitzky Conducting Prize at Tanglewood where she studied with Leonard Bernstein.
COMPLETE PROGRAM DETAILS:
Friday, May 10, 2013 at 8:00 p.m. – Joseph Meyerhoff Symphony Hall (JMSH)
Saturday, May 11, 2013 at 8:00 p.m. – Music Center at Strathmore
Sunday, May 12, at 3:00 p.m. – JMSH
Marin Alsop, conductor
Chaplin: Modern Times
Tickets range from $28 to $90 and are available through the BSO Ticket Office, 410.783.8000 or BSOmusic.org.
###