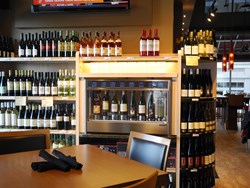 "We are thrilled to be working with Mr. Gosi and the WineEmotion team on what we feel is the most revolutionary wine dispensing system in the world." - Brix CEO Dan Matuszek
Omaha, NE (PRWEB) April 19, 2013
WineEmotion USA is pleased to announce the first North American installation of WineEmotion wine dispensing systems at Brix Midtown Crossing, a wine and spirits experience located in Omaha, Nebraska. Brix is a unique concept combining the selection of wine, beer and spirits in its retail space, with the environment of a bistro featuring artisanal cuisine.
As an expansion of the Omaha-based retail and restaurant concept, Brix enlisted the custom consulting solutions of WineEmotion USA to provide their customers a unique wine experience. Giving customers access to greater selection, multiple pricing options and multiple serving portions, WineEmotion systems are a critical marketing component to the Brix concept - putting the customer in control of their own wine experience.
At any given time, Brix's midtown location features 64 different rotating wines available by the glass in 1 oz, 2.5 oz or 5 oz pours. Utilizing eight WineEmotion "Otto" models [8 bottle refrigerated] throughout the store, each wine dispenser enables browsing customers to taste and discover wines perfectly suited to their palate, which they can then enjoy in the bistro atmosphere by the glass or purchase by the bottle for on-premise or off-premise consumption.
"We are thrilled to be working with Mr. Gosi and the WineEmotion team on what we feel is the most revolutionary wine dispensing system in the world. We're also excited about bringing this technology to other markets around the country as we expand the Brix concept," said Brix CEO Dan Matuszek. "With wine being one of the most intimidating beverages available to the adult consumer, the WineEmotion system not only makes wine less intimidating by offering a small-portion sampling option, but consumers also love the technology and the fun-factor as well."
Equipped with WineIDEA software-enabled wine cards, Brix guests are able to browse and sample wines themselves at each wine machine using pre-paid cards. While guests enjoy the selection and sampling options that controlled-access cards provide, customer service experts at Brix utilize WineIDEA software as a management tool to control card usage and monitor customer preferences and trends.
The intelligent capability built into WineIDEA also facilitates enhanced relationship building and customer care at Brix. Maintaining detailed user account profiles, customers have access to recommendations based on their tasting history.
WineEmotion co-founder and principal inventor Riccardo Gosi traveled from Italy to visit Brix during its grand opening week. "Dan Matuszek is truly a visionary because Brix is the best representation of how to utilize WineEmotion as a marketing tool," said Gosi. "We're proud to partner with Brix as our first American location because Dan and I share a common vision - to provide consumers an enjoyable experience by catering to their interests. Listening to your customer is the best marketing strategy."
About WineEmotion USA
WineEmotion™ is the next generation of wine dispensing and preservation systems created to enhance the passion and experience of fine wine through research and technology. Created by Enomatic inventor and founder Riccardo Gosi, WineEmotion is the latest advancement of Gosi's original world-renowned design. WineEmotion advances how wine is sold and served by eliminating spoilage, perfectly measuring pours, and serving at precise temperatures to enhance the customer experience while driving profits for business owners as a marketing and management tool.
WineEmotionUSA is the exclusive U.S. importer of the WineEmotion line of wine dispensing systems, available directly through the manufacturer. Formed in 2012, WineEmotion USA is a partnership between WineEmotion S.p.A. and Rinaldini Distribution, Inc. For more information, contact WineEmotionUSA at 800.671.3317 or online at WineEmotionUSA.com.
About Brix
Brix is a multi-site wine and spirits experience combining retail, foodservice and event center business models into one unique concept. Based in Omaha, Nebraska with two locations, Brix is a leading retailer of fine wine, craft beers and spirits in the Greater-Omaha region. Created by Dan Matuszek, who has over twenty years of experience representing world-recognized wine brands, Brix opened its first location in west Omaha in 2010. In early 2013, Brix opened its second location at Midtown Crossing, an urban development in central Omaha. For more information about Brix, visit BrixOmaha.com.