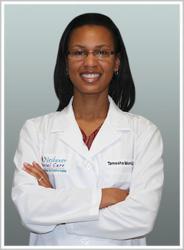 We are committed to providing our patients with excellent and personalized dental care in a calm and friendly atmosphere.
Washington, DC (PRWEB) April 30, 2013
Dental Serenity and to Dr. Tamesha Morris were awarded the "Best of the Best" designation for excellence by Follow Media Consulting, Inc. in the category of Dentist Woodbridge. This award signifies the continued commitment and dedication of the areas best in dental care service.
Dental Serenity™ is a dental practice located in the Southbridge shopping plaza in Dumfries, VA. Located next to the Super Walmart, Dental Serenity™ strives to bring quality dental care to both the residents of Dumfries and surrounding areas. Since opening in early 2011 they have strived to become a welcomed member of the community.
Headed by Dr. Tamesha Morris, Dental Serenity is one of the country's best dental clinics that uses high quality technology for dental procedures and quality care to their patients. Dr. Morris is a native Virginian, having been born in Richmond and raised in Louisa County, VA. She has been involved in dentistry for over 10 years and is a proud graduate of both the Virginia Commonwealth University College of Dentistry and James Madison University.
She remains dedicated to life-long learning of the newest innovations in dental care and enjoys sharing her knowledge with others. She serves as both a volunteer and advocate for local and international community service organizations. A firm believer in serving her community, Dr. Morris regularly participate in numerous community events, health fairs, church programs and has completed missionary work overseas.
To know more about Dental Serenity and Dr. Tamesha Morris' service, call them at phone number (703) 445 - 9600 or you may also visit their website at http://www.dentalserenity.com/ to schedule an appointment.
About Follow Media Consulting, Inc.
Named one of the best SEO companies by Jonas Marketing, Follow Media Consulting, Inc. is a rapidly growing worldwide firm of SEO, Social Media, and Mobile Marketing Professionals. Follow Media Consulting, Inc. headquarters is located in Richmond, VA. However, our professional team is networked across the world, with regional offices across the United States, in the United Kingdom, Canada, Australia, France, South Africa, the Philippines, and India.