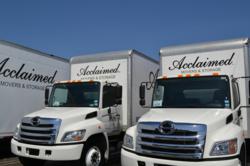 Oxnard, CA (PRWEB) April 19, 2013
Oxnard's first choice for residential and commercial relocations, Acclaimed Oxnard Movers, has just converted all of its trucks to meet the strict California regulations regarding emissions. The new regulations, which must be met by 2023, will significantly reduce the amount of emissions being produced by commercial vehicles and Acclaimed is happy to be in compliance. The company works hard to be environmentally friendly, and because of its dedication to creating a more sustainable workplace, it received a state grant to make certain that it could convert its vehicles. Acclaimed continues to evolve at every turn, expanding and adapting to providing moving solutions for all of Oxnard's moving needs. Acclaimed Oxnard Movers is a full-service, fully comprehensive luxury moving company.
Acclaimed Movers and Storage has helped homes and businesses to relocate across the city, across the country, and across the world for nearly a decade. The company has extensive experience with houses, offices, apartments, warehouses, condos, restaurants, retail facilities, and more. Each of their Oxnard movers is a clean-cut, uniformed professional who goes through innovative training, which ensures that they can properly wrap, pack, and then move any item. Acclaimed offers a comprehensive packing service that is perfect for the protection of any item, and includes the disassembly and reassembly of large furniture, as well as the creation of custom moving crates for all flat-screen TVs, artwork, antiques, electronics, and other delicate or valuable items. For transportation, Acclaimed maintains a fleet of cutting-edge trucks, which run on an eco-friendly bio-diesel fuel. Moreover, their Oxnard movers have space available for long-term and short-term storage in their colossal, climate-controlled, secure storage facility.
Acclaimed Oxnard Movers is dedicated to providing premium quality moving services at economical rates, which is why the company makes a lifelong customer out of each person that they help. Acclaimed has quickly become synonymous with affordability, efficiency, and reliability in the moving industry. The conversion of their trucks to meet the new emissions regulations is just another way that Acclaimed does its part to preserve the environment. When it's time to move a home or business, it's time to get a free, no-obligation quote from Acclaimed Oxnard Movers.