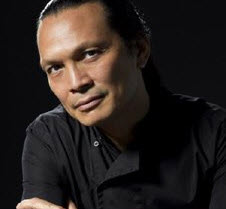 "This is a rare opportunity to meet and learn from one of Canada's top chefs," Rory Golden, Director of Food & Beverage at Deerhurst Resort
Huntsville, ON (PRWEB) April 22, 2013
Deerhurst, a Skyline Resort has teamed up with internationally acclaimed Chef Susur Lee to offer a special culinary weekend package, May 24-26. For the first time ever, food aficionados will have the chance to meet, greet, learn from and savour the artistry of the Toronto-based chef, up close and in person at the Muskoka resort.
A former Iron Chef competitor and Top Chef Master who defeated 20 challengers in the process, Chef Susur is known for his delectable small-plate dishes, created using modern Asian and French influences. A savvy restaurateur, Chef Susur has been the mastermind behind several restaurants, both in Toronto and around the world. He currently owns Lee and Bent in Toronto and Chinois at Hotel Michael in Singapore.
"This is a rare opportunity to meet and learn from one of Canada's top chefs," says Rory Golden, Director of Food & Beverage at Deerhurst Resort. "Chef Susur is a true culinary talent whose expertise will certainly complement Deerhurst's culinary philosophy and focus on using fresh, local ingredients."
The Chef Susur Lee Culinary Weekend includes a "dine around" event on Friday night, where Chef Susur will serve his signature Singaporean style 19-part salad with black pepper tuna sashimi and salted plum dressing. Other stations will feature dishes created with locally grown Savour Muskoka ingredients, gluten-free pasta made 'a la minute', pastry chef tastings, soup shooters and seafood poutine.
On Saturday afternoon, guests are invited to a cooking demonstration and tasting with Chef Susur, where they will also learn unique plate presentations from the master himself.
Later that evening, guests will join Chef Susur for "A Chef's Journey" – a sumptuous five-course dinner event inspired by Lee's personal travels and inspirations.
The "Chef Susur Lee Culinary Weekend" two-night package starts from $349* per night and includes:

Friday night meet and greet/stand-up dinner
Saturday afternoon cooking demo with Chef Lee
Saturday night five-course dinner
Price is not inclusive of taxes, amenity fee. Subject to availability. Conditions may apply.
For more information or to book this culinary getaway, phone 855-432-3858.
###
About Susur Lee:
From inauspicious beginnings as a 16-year-old apprentice at Hong Kong's elegant Peninsula Hotel to his Atlas stride atop the fickle world of celebrity chefdom, Lee has never strayed from his consuming passion: to create tantalizing dishes that blend textures and flavours in glorious harmony. Balancing the epicurean traditions of China with the classical techniques of French cuisine, Lee improvises a daring and original culinary aesthetic. http://www.susur.com
About Deerhurst Resort:
Although Deerhurst Resort emerged on the world stage when it welcomed leaders like Obama, Sarkozy, and Merkel as host venue for the 2010 Group of Eight Summit, the lakeside retreat has been evolving into an Ontario landmark throughout its storied 117 year history. The 400-room Muskoka hotel also encompasses 45,000 sq. ft. of meeting venues, two 18-hole golf courses, a Shizen Spa, an extensive waterfront, a live stage show, Adventures in Excellence teambuilding and the most on-site activities of any resort in Eastern Canada. A founding member of the Savour Muskoka culinary trail, Deerhurst is the only resort in North America to produce both its own maple syrup and wildflower honey, as well as shiitake mushrooms, herbs and other foraged produce on property, one hallmark of its commitment to local sustainability. http://www.deerhurstresort.com
About Skyline Hotels & Resorts:
Skyline Hotels & Resorts is a distinct collection of hotel and resort properties focused on providing true lifestyle enhancing experiences to leisure and business guests, as well as local residents. Offerings include top-level golf and ski, its own Shizen Spa brand and a complete range of year-round activities including adventure parks and corporate team-building. Skyline destinations include The King Edward Hotel, the Cosmopolitan Hotel and Pantages Hotel in downtown Toronto, Barrie's Horseshoe Resort and Deerhurst Resort in Muskoka. Skyline Hotels & Resorts is owned and operated by Skyline International Developments Inc., a real estate and development company that also includes unique communities like Port McNicoll. Visit http://www.skylinehotelsandresorts.com.