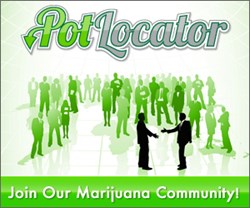 By adding another safe-access point to medicine in the city of Detroit, we are ensuring patients they will have an acceptable selection of reputable canna-businesses to purchase their medicine from. - John Nicolazzo, C.O.O. of PotLocator
(PRWEB) April 19, 2013
PotLocator.com, a subsidiary of The Medical Cannabis Network (MCN), has today announced the addition of a brand new business to an increasingly boast worthy roster of cannabis-related clients. As it seems evident that many other web listing services such as WeedMaps and THCFinder are slowing down their marketing and advertising efforts to plan a proper marketing strategy, PotLocator is always stepping up their game and striving to exceed everyone's expectations by a mere landslide. Nationally recognized by the cannabis community as one of the top-tier medical marijuana dispensary, collective and wellness center locators on the entire Internet, PotLocator was comprised upon a foundation of compassion and legitimacy that is strictly meant to benefit the industry's many patients. Every business that is integrated within the PotLocator network is in for a real compassionate, knowledgeable and personable service that has only the best interest of properly marketing a business.
The newest addition to the PotLocator roster is the M Lounge located in the great state of Michigan. As the state of Michigan has been in the news for cracking down on medical marijuana dispensaries, PotLocator's search for a legitimate and compliant medical marijuana compassion club is finally over. For free services to locate a medical marijuana wellness center, hydroponics shop, smoke shop or medical marijuana attorney, visits PotLocator.com and use all the necessary tools to discover compassion. Please note that every business within the PotLocator network is comprised of the highest standards and has passed a thorough background check.
The M Lounge is a medical marijuana compassion club that is located in Detroit, Michigan. Open Tuesday through Sunday, this wellness center features an extensive menu of various cannabis strains, tinctures, edibles and concentrates, and has some of the highest quality medicine in the state. The M Lounge also features a member's only farmer's market event that is held every weekend from Friday to Sunday in the month of May. These markets are open from 10:00 a.m. to 6:00 p.m. and will give medical marijuana patients in the state a taste of true Michigan canna-culture. This location boasts a team bud tenders that are ready to answer and address all questions and concerns that are brought to them by patients, and can provide patients with comprehensive knowledge about their medicine that they cannot find anywhere else. The M Lounge extends its services to the surrounding towns and cities of Fort Wayne, Hamtramck, Delray, Highland Park, Grosse Pointe Park, Dearborn, Melvindale and Conner's Creek.
With the addition of this distinguished and legally compliant Michigan-based canna-business, PotLocator portrays a vision of legitimacy, professionalism and compassion that the industry so desperately needs. While the industry tends to function in a grey area at times, with PotLocator it is strictly black and white. There is no time to function in a grey area while patients across the nation are suffering from debilitating illnesses and lacking a discreet safe-access point to obtain their medicine.