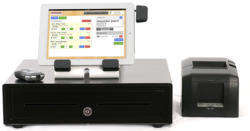 Irvine, CA (PRWEB) April 19, 2013
Group ISO Merchant Services is proud to announce they are offering a new line of credit card processing technology to merchants across the United States. Businesses no longer need to rely on clunky, expensive traditional POS systems. Business owners will now be able to accept credit cards, debit cards and cash payments through an Android-powered or Apple (iPad) tablet and PC/Mac Point of Sale system (POS).
In collaboration with ZingCheckout, Group ISO merchants will have the option to get involved with the new POS system and have access to all of the rich features it contains, including: encrypted card swiping, wireless barcode scanning, order lookups, item refunds, adding discounts, heavy-duty cash drawer, inventory reports (also available on your smartphone), cash payment option, theme customization, enhanced digital receipts help promote business via social media, and much more.
This all-in-one Point of Sale System works directly with your own iPad, computer or Android tablet – great for retail stores, restaurants and boutiques of all sizes.
To learn more about this multi-platform POS, contact a Group ISO Merchant Services representative at 1-800-722-4476.