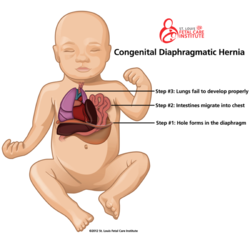 "We see too many cases of CDH that are not discovered until after a baby is born. By building awareness, we hope to increase prenatal diagnoses, which gives these babies a better chance at survival." -- Dr. Mike Vlastos
Saint Louis, MO (PRWEB) April 19, 2013
More than 1,600 babies born with Congenital Diaphragmatic Hernia (CDH) every year in the U.S. fight to take their first breath. With the contents of their abdomen creeping into their chests through a hole in the diaphragm, their lungs don't have the chance to develop properly, making it difficult if not impossible, for them to breathe.
The St. Louis Fetal Care Institute is working to spread awareness about this condition that is as common as more recognized birth anomalies such as cystic fibrosis and spina bifida. A CDH Awareness Walk will be held at 10 a.m. on Saturday, April 20, at SSM Cardinal Glennon Children's Medical Center, 1465 S. Grand Blvd., St. Louis, MO 63104.
CDH survivors and their families from around the St. Louis region are expected to join in the event. It will start with a reception, and conclude with a walk around the SSM Cardinal Glennon grounds, and a balloon release in memory of those who have lost their battle with CDH.
"CDH accounts for 8 percent of all major congenital anomalies, yet many people have never heard of it," says St. Louis Fetal Care Institute Director Dr. Mike Vlastos, maternal-fetal medicine specialist. "We see too many cases of CDH that are not discovered until after a baby is born. By building awareness, we hope to increase prenatal diagnoses, which gives these babies a better chance at survival."
Research is currently under way for a method of prenatally treating CDH. But the standard of care is to repair the hole in the baby's diaphragm after birth. SSM Cardinal Glennon has a team of pediatric surgeons, maternal fetal medicine specialists, and neonatologists who are skilled in diagnosing and treating CDH.
"With a survival rate of only 69 percent according to the American Academy of Pediatrics, we owe it to these babies and their families to find a way to increase the odds," says Vlastos.