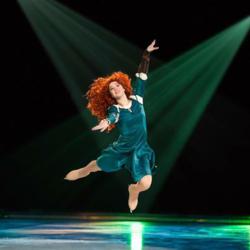 Denver, Colorado (PRWEB) April 19, 2013
Disney On Ice has soared to the height of popularity, now with eight touring productions around the world. Four of these skating spectaculars are now gliding around the U.S., melting hearts of all ages.
Currently generating the highest trending traffic online, Rockin' Ever After, is performing at Reliant Stadium in Houston, Texas through April 21. It then moves to the American Bank Center in Corpus Christi, Texas from April 25 to April 28, before heading to the UNO Lakefront Arena in New Orleans, Louisiana from May 2 to May 5 and the Baton Rouge River Center Arena in Baton Rouge from May 9 to May 12.
The cast then heads for a North American wrap at the Tampa Bay Times Forum in Tampa, Florida from May 16 to May 19. The show then reopens in the U.S. in January at the Valley View Casino Center in San Diego, California.
The second highest trending production, Worlds of Fantasy, is now playing at the Massmutual Center in Springfield, Mass., through April 21. It then shows at the DCU Center in Worcester from April 25 to April 28; the Arena at Gwinnett Center in Duluth, Georgia from May 2 to May 5; the State Farm Arena in Hildago, Texas from May 8 to May 12; and the Cedar Park Center in Cedar Park, Texas from May 16 to May 19.
Treasure Trove is also trending extremely high. The spectacular is now at the World Arena in Colorado Springs, Colorado through April 21. It will then perform at the Thomas & Mack Arena in Las Vegas, Nevada from April 25 to April 28; the Long Beach Arena in Long Beach, California from May 1 to May 5; Citizens Business Bank Arena in Ontario, Canada from May 8 to May 12; and the Pensacola Bay Center in Pensacola, Florida from May 16 to May 19.
Dare to Dream, another top trender, is scheduled at the Rupp Arena in Lexington, Kentucky through April 21; the Verizon Arena in North Little Rock, Arkansas from April 24 to April 28; the CenturyLink Center in Bossier City, Louisiana from May 1 to May 5; Freedom Hall Civic Center in Jefferson City, Tennessee from May 9 to May 12; and the Von Braun Center Arena in Huntsville, Alabama from May 16 to May 19.
A fifth U.S. touring production, Disney On Ice: 100 Years of Magic, re-opens in the U.S. at the United Center in Chicago in September.
"We're seeing our highest search traffic for Disney On Ice: Rockin' Ever After tickets at the present time," said Felina Martinez at online ticket marketplace BuyAnySeat.com.
"But volume is extremely high for all of the other Disney on Ice shows as well. That's why we're proud to be able to offer fans and their families a complete and continuously updated selection of Disney On Ice tickets, with a worry-free guarantee to protect their purchase," said Martinez.
"To access the cheap Disney On Ice tickets we now have available, customers can go to BuyAnySeat.com and search for Disney On Ice – then select the production they want to see and find their tickets," said Martinez.
Disney On Ice is a series of touring ice shows that are produced by Feld Entertainment in agreement with The Walt Disney Company. The shows began in 1981 as Walt Disney's World on Ice and were renamed in 1998. The Disney On Ice franchise features over eight productions and touring companies at any given time.
Typically, new shows debut and play in North America for two years and then head on to Japan for the third year, and Australia, England, and other parts of the world for the fourth year. Beyond that, shows such as 100 Years of Magic normally return to the Americas for the fifth year, then trek around the globe and back in succeeding years. (Source: Wikipedia.com)
The shows are known for their combination of expert skating and choreography. Dressed as classic Disney characters such as Minnie and Mickey, Ariel, Sebastian, Belle, Merida, and Rapunzel – professional skaters perform polished routines and familiar scenes. They glide around famous fairytale sets, bringing the magic of Disney's stories to life.
Plus, it all takes place to the upbeat tempo of Disney's popular tunes, which often spurs audiences of all ages to stand up and start singing and dancing along. Songs from the beloved princess movies are also featured, much to the delight of families of fans.
To see upcoming cities and dates, and to shop for cheap Disney On Ice tickets, visit BuyAnySeat.com.
About BuyAnySeat.com: An online ticket marketplace, BuyAnySeat.com connects sports, theater and other live entertainment fans to an extensive worldwide network of ticket sellers. The site's simplified listings and navigational tools enable fans to easily locate, compare and purchase inexpensive, discounted or lower-priced tickets to virtually all advertised sports and entertainment events around the globe.
The marketplace, which is PCI-compliant and Norton Secured, also provides customers with a complete Worry-Free Guarantee on all ticket purchases. Based in Denver, Colorado, BuyAnySeat.com is a subsidiary of Denver Media Holdings. For more information, please visit http://buyanyseat.com.