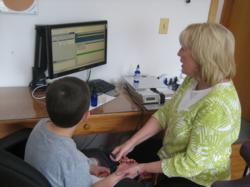 EDS can play a vital role in helping to identify food and environmental allergens that can be contributing to the esophagus's inflammatory state. People with EE frequently have multiple food allergies.
Orland Park, Illinois (PRWEB) April 19, 2013
Vital Health, Inc. now offers its clients an accurate, non-invasive, and pain-free way to identify food and environmental allergens that can greatly aid in the treatment of Eosinophilic Esophagitis (EE). In most cases, EE is associated with multiple food and environmental allergies. Vital Health, Inc. utilizes the technology of Electro-dermal Screening (EDS) and can screen for over 200 food and environmental allergens.
How is EDS vital in helping clients with EE?
First, EDS can play a vital role in helping to identify food and environmental allergens that can be contributing to the esophagus's inflammatory state. People with EE frequently have multiple food allergies. The most common food triggers are milk, egg, wheat, rye and beef. Unlike traditional food allergy tests that involve multiple needle sticks and blood draws, the EDS method is completely pain-free. As a result, the EDS method is completely non-threating to most children and can even be completed on infants as young as six-weeks. Barbara Griffin, NMD, CNC, Certified Gluten Practitioner, and owner of Vital Health has tested over 10,000 infants, children and adults with EDS.
Second, EDS can also help identity other ways to bring down inflammatory markers throughout the body. This is an essential component to overall healing, as well as the development of other diseases. EDS can help with the selection of specific protocols, measure the progress of therapy, and note health trends. Dr. Griffin utilizes the information gained through the EDS emulation to assist the client in achieving greater health.
What are the symptoms of EE?
Because this condition inflames the esophagus, someone with EE may experience difficulty swallowing, pain, nausea, regurgitation, and vomiting. Over time, the disease can cause the esophagus to narrow, which sometimes results in food becoming stuck, or impacted, within the esophagus, requiring emergency removal.
Symptoms of EE often present themselves differently based on the age of the client. In children, EE symptoms are usually similar to those of GERD (abdominal pain, nausea, vomiting, poor weight gain). Adolescents and adults frequently experience difficulty swallowing as well as food impaction. EE is most common in patients with other allergic diseases such as asthma.
What is the treatment for EE?
Treatment for EE can be roughly divided into two categories -- diet and medication. Avoiding food allergens can help some patients, but in many cases, more drastic dietary changes are necessary for at least a matter of weeks as the esophagus begins to heal.
Drug therapies for EE are aimed at reducing inflammation in the affected parts of the body. Of equal importance, Dr. Griffin can use the EDS tool in order to identify key nutritional supplements that the body may be depleted in, digestive enzymes that can aide in food absorption, as well as other vitamins that can help the body to heal faster. Combined with traditional medical intervention being able to identify the food culprits, these elements together play a vital role in overall healing.
How does EDS work?
Just as an EKG machine measures the electrical activity of the heart, EDS measures these same electrical pathways to provide critical information about organs and body systems. EDS can help recognize a patient's organ dysfunction even before physiological symptoms manifest themselves.
The EDS testing device sends a tiny electrical current, too small to be detected by the patient, through a probe. The patient holds a probe in one hand, while a second probe is touched to another part of the body, normally the hands or feet. This completes a low-voltage electrical circuit, and a computer screen or a needle on a gauge reads out a number between 0 and 100. These numbers are used to decide if the patient's energy is out of balance.
Dr. Griffin tests the skin along various points with particular attention to the acupuncture meridians found on the hands and feet.
Neither the EDS screening, nor Barbara Griffin provide medical diagnoses or medical treatment. Follow-up with your medical doctor before beginning any new treatment plan is strongly recommended.
About Vital Health, Inc.:
At Vital Health, Inc. Dr. Griffin integrates a whole body approach with the intention of facilitating wellbeing and optimal health amongst her clients. Dr. Griffin's specialties include: traditional naturopathy, nutrition, EAV Meridian Stress Assessment, Food Sensitivity Screening, Environmental Screenings, Iridology, SKASYS, Live Blood Cell Analysis as well as established integrative therapies such as Neuroemotional Therapy, Neuromodulation Technique, Cold Laser.