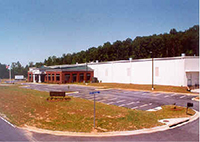 The business awarded to Impulse means more jobs for Dawsonville and a shot in the arm to our North Georgia economy.
(PRWEB) April 22, 2013
Impulse Manufacturing, an industry leading Georgia metal fabricator, announced that it has been awarded significant contracts to supply parts to a new Caterpillar, Inc. production facility located in Athens, GA. The new Caterpillar facility will manufacture mini-hydraulic excavators and small track-type tractors and is expected to employ 1400 people. The impact of this new facility has wide ranging implications for employment across the state, and particularly for Impulse Manufacturing which is now a major parts supplier to the Athens Caterpillar operation. Impulse is projecting employment to grow by more than 150 people over the next 3 years. Over 50% of the employment growth will be directly attributed to the new Caterpillar facility.
In addition to increased employment, Impulse Manufacturing is also evaluating the potential for expansion of its metal fabrication facility. The company invested several million dollars in manufacturing equipment in 2012 and plans are in place to invest several million more over the next 18 months.
Supporting the new Caterpillar operation will require many of Impulse Manufacturing's steel fabrication capabilities including:

Impulse Manufacturing's Director of Sales and Marketing, Karl Baysden, remarked about the new Caterpillar, Inc. contracts, "At Impulse we are excited to have been selected as a key supplier to Caterpillar's Athens, Ga facility. We believe that our ongoing investments in technology, our continuous improvement programs, and our active Quality Management Systems are primary reasons Caterpillar chose to add Impulse Manufacturing to their supply base. The business awarded to Impulse is important to our local community. It means more jobs for Dawsonville and a shot in the arm to our North Georgia economy. We could not be more pleased to be working with Caterpillar, Inc. here in Georgia. We will deliver "World Class Metal Fabrication" to Caterpillar and all of our valued customers."
Impulse Manufacturing, a leader in Georgia metal fabrication products and services, is dedicated to providing the highest quality products to its customers. The company is ranked #14 in the 2012 "FAB 40" list of the 40 largest metal fabrication companies by the Fabricators & Manufacturers Association, International. Impulse Manufacturing is located at 55 Impulse Industrial Drive, Dawsonville, GA 30534-3141. The company can be reached by email and phone: 706-216-1700. Website and online web marketing is provided by Atlanta SEO Company, Interactive Search Marketing.