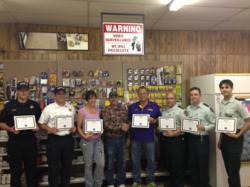 Meeting everyone who helped me that day brought tears to my eyes.
(PRWEB) April 18, 2013
A reunion was held last week in Iberia Parish, La., between Sidney Thibodeaux and those who helped save his life.
On March 1, 2013, Thibodeaux was boiling crawfish at Leleux's Grocery on Highway 14 in Iberia Parish when he suddenly collapsed. Bystanders Dori Daigle and Kenny Verret initiated CPR immediately, and continued compressions until members of the Iberia Parish Fire Department—Dusty Edwards, Mike Mire and Zachary Thevenet—arrived. When Acadian Ambulance Medics Timothy Dronet, Kevin Buller, and Hunter Domingue arrived on scene, Thibodeaux was still in full cardiac arrest. Fortunately, the medics and the fire department personnel were able to obtain a pulse, and during transport to the hospital, he continued to improve. He regained consciousness at Iberia Medical Center and was discharged two days later.
Thibodeaux was moved by the chance to thank the people who saved him. "Meeting everyone who helped me that day brought tears to my eyes," he said. "They did an amazing job, and my family and I are grateful."
Meritorious Service Awards were given to those who assisted in reviving Thibodeaux.
Acadian Ambulance is committed to their patients and their communities. They are an emergency and non-emergency medical transportation provider to Louisiana, Texas, and Mississippi.
Since 1971, Acadian has provided the highest level of emergency medical care and transportation possible. In the past decade, the company has expanded to include a diverse suite of services in health, safety, and transportation. Acadian's six divisions are Acadian Ambulance Service, Acadian Monitoring Services, Air Med, Executive Aircraft Charter Service, National EMS Academy and Safety Management Systems.
###