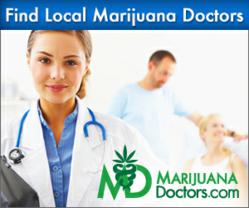 "By expanding into Beantown, we hope that our marketing efforts will attract more patients to use our service and set themselves up with a reliable physician who can provide them with their desired pain management plan." -John Nicolazzo
(PRWEB) April 21, 2013
America's most innovative and first-of-its-kind medical marijuana physician search and booking platform, MarijuanaDoctors.com, has today announced a recent addition to an already sufficiently bolstered roster of cannabis-recommending doctors. While the MarijuanaDoctors roster of prominent doctors is already beginning to become an increasingly unstoppable powerhouse, the company never relents for a single moment in a dedicated mission to supply the country's millions of medical marijuana patients with the finest healthcare services in alternative medicine. This company is directly responsible for eliminating any troubles that may come along with territory of trying to find a physician who can recommend the right treatment option for a respective condition. MarijuanaDoctors understands that bettering your well being is essential to maintaining your overall health and living a safe, joyous lifestyle. If it wasn't for the team at MarijuanaDoctors, nearly 150,000 medical marijuana patients a year would be having a difficulties and personal struggles trying to find a physician who best suits a specific chronic or debilitating condition. As usual, MarijuanaDoctors shows no symptoms of slowing down their exceptional marketing efforts and compassionate healthcare services.
The company's announcement of expansion to the greater Boston metropolitan area is a mission accomplished in itself, as MarijuanaDoctors has long attempted to provide patients in the state of Massachusetts with a reliable and personable physician who can provide them with an alternative treatment option. Physicians who have been integrated within the MarijuanaDoctors network are of the highest standing and have no previous history of medical malpractice. By passing a background check, MarijuanaDoctors can ensure all patients that they are receiving the most legitimate and compassionate services in alternative healthcare.
Canna Care Docs is a medical marijuana certification center that is located in the metropolitan hub of Boston, Massachusetts. This location provides extensive and thorough services to inquiring and current patients who are suffering from chronic and debilitating conditions that are approved illnesses under the Massachusetts medical marijuana program guidelines. Patients who have been dissatisfied with their physician in the past or have had trouble scheduling an appointment at a time that works best around a specific schedule do not have to look any further. Canna Care Docs is comprised of all the necessary essential qualities to provide exceptional healthcare to the many citizens of Massachusetts. This location specializes in administering medical marijuana evaluations, medical marijuana certifications and written medical marijuana recommendations from our board-certified and legitimately licensed physician. By taking an individualized approach to alternative treatment options, Canna Care Docs certainly separates itself from the rest of its competitors. This location boasts a staff that is built-up of some of the most compassionate, understanding and intelligent individuals, all of which are here to be used at a patient's disposal for questions, concerns and queries. Please note that the staff at Canna Care Docs is readily available to assist any patients approved into the state's medical marijuana program within the processes of filing and submitting documentation. With Canna Care Docs, patients are brought one step closer to obtaining a Massachusetts medical marijuana card alongside a better well-being.
With the recent addition of such a professional and legitimate medical marijuana doctor to the MarijuanaDoctors family, patients in the Massachusetts region will now be supplied with another opinion in regards to a personal pain management plan. Be sure to be on the lookout for more MarijuanaDoctors announcements about their ongoing efforts to form one of the most comprehensive and compassionate networks of physicians who will recommend medical marijuana as a treatment. With MarijuanaDoctors, the patients always come first and foremost. MarijuanaDoctors does not rest until each patient has been situated with their treatment of choice.