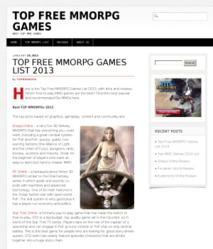 Los Angeles, CA (PRWEB) April 19, 2013
Finding the best and most popular massively multiplayer online role-playing games (MMORPGs) has never been easier.
TopFreeMMORPG.net, a popular MMO gaming website, today announces its annual Top MMORPG 2013 list which features the best free to play (f2p) MMORPG games of 2013, with links and mini-reviews of each title. Only those games with excellent 3D graphics, a friendly community, and fun gameplay are included.
Visit the Top MMORPG 2013 list at http://topfreemmorpg.net/top-free-mmorpg-games-list-2013/.
"The market is full of f2p MMOs and it can be difficult to navigate huge websites that have hundreds of reviews. Our Top MMORPG 2013 feature makes it easy for players to find what they are looking for," said Markus Fournier, editor. "The list has bite-sized reviews because it is meant to summarize our top recommendations for 2013. It's for casual readers who don't necessarily want to read a long review of each game. However, the TopFreeMMORPG.net website's other categories do have detailed, in-depth reviews that provide as much information as possible. We will also be adding more games as they are launched so that players can learn about the newest and hottest MMORPGs of 2013."
This year's most wanted game features are: fast-paced action combat, dynamic environments that players can interact with, open-world player vs player (PvP) content, crafting, and professions. Many games are also offering sandbox elements such as user-generated content, a player-controlled economy, and endless skill progression through classless character customization.
All of the featured titles are free and currently playable. They are either post-launch or in open beta. Those that are pay to play (p2p) and buy to play (b2p) are not included. There is a separate list for upcoming MMORPGs due to be released in 2014.
Website visitors can expect a clean, minimalistic and readable magazine-style site design with small, unobtrusive ads.
For more information, visit the topfreemmorpg.net website.
About TopFreeMMORPG.net
TopFreeMMORPG.net (http://topfreemmorpg.net) delivers free online MMORPG games reviews and opinion articles through its dedicated and skilled team of writers who provide insight, assistance, guides, game play reviews, videos, commentaries, and a friendly community. An innovator in the field of MMO games writing, TopFreeMMORPG.net is always looking for new and better ways to deliver content.