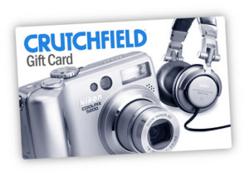 Electronics are a hot item in 2013 for incentive and rewards programs...
Wellesley, MA (PRWEB) April 23, 2013
GiftCard Partners (GCP) is excited to offer their customers an even larger gift card brand selection with the addition of their newest client, Crutchfield, a leading online retailer of electronics. "With the inclusion of a brand like Crutchfield, our customers gain the ultimate flexibility; their gift card program recipients can shop for brand name consumer electronics for their cars, boats, or homes from anywhere, anytime", says Edward Shulkin, GCP's President.
Founded in 1974, Crutchfield is the largest online retailer of consumer electronics and a 13-time winner of the BizRate Circle of Excellence Award. For more than 38 years, they have offered a wide selection of high quality products to satisfy all types of consumers. They have also been involved in the Reward and Recognition marketplace for the last 8 years. Deb Merkin, COO, explains "Electronics are a hot item in 2013 for incentive and rewards programs, and Crutchfield offers our customers high quality electronics at competitive rates."
Electronics continue to be one of the most sought after incentives in the industry. In 2012, a survey by the Incentive Research Foundation showed that electronics make up 79% of non-cash incentives in rewards and recognition programs. Using Crutchfield gift cards as incentives in these programs ensures satisfied recipients, while customers save by purchasing gift cards in bulk and at a discount, ensuring satisfied buyers.
About GiftCard Partners
GiftCard Partners is one of the nation's largest developers of corporate Gift Card programs; dedicated to growing their clients' B2B gift card business through innovative approaches in the incentive, loyalty, promotion, fundraising (Scrip), and affinity markets.
GiftCard Partners works with a broad range of leading brand companies as an out-sourced program management solution. Their client's gift cards are placed in workplace safety programs, health and wellness programs, employee recognition, motivation and sales incentive programs, and customer rewards and loyalty programs. Some of their clients include CVS/pharmacy®, Whole Foods Market, GNC, The Cheesecake Factory® , The Children's Place, AutoZone®, Nutrisystem®, Charming Shoppes (Lane Bryant® and Catherines®), 1-800-Flowers, and more.