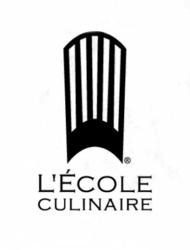 We have some very imaginative and creative chefs right here on our campus. This is our way of showing our appreciation for their creativity and providing the St. Louis area with an exceptional culinairy experience
St. Louis, Mo (PRWEB) April 19, 2013
L'École Culinaire is pleased to announce the new "Friday Night at The Chef's Table". From 4:00 to 7:30 p.m. beginning Friday, April 5 and running every Friday, (excluding April 26), patrons can enjoy inventive small plates and creative signature cocktails to complement the culinary selections.
Veteran L'Ecole Culinaire Program Directors, Chef Darren Zesch and Chef Lawrence Hutchinson created this event to showcase a wide variety of delicious epicurean trifles for guests to sample and savor. These two talented chefs will impress patrons with their creative culinary delights. Each Friday event offers the opportunity to enjoy creations from chefs who are training the newest crop of chefs in the area. The Chef's Table special event is open to the community and all are welcome to partake in an evening of petite plate offerings paired with cocktails designed to perfectly complement their flavors.
"We wanted our customers to think of this as a new way start to the weekend," says Chef Darren Zesch, L'Ecole Culinaire Program Director. "We have some very imaginative and creative chefs right here on our campus. This is our way of showing our appreciation for their creativity and providing the St. Louis area with an exceptional culinairy experience."
All featured small plates are priced under $10 and are paired with local beer and spirits, as well "vino" from A. Bommarito wines. Reservations for "The Chef's Table are not required and is on a first come first served basis.
The "Chef's Table" events are scheduled at the L'École Culinaire Presentation Room, 9811 South Forty Drive, Ladue, Mo. 63124.
About L'École Culinaire
As part of Vatterott Educational Centers, Inc., L'École Culinaire offers culinary training for the career-minded chef. Students experience hands-on learning and instruction from professionals in the culinary industry. For more information, please visit http://www.lecole.edu.
###