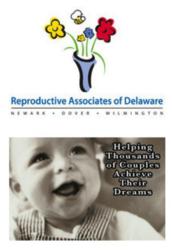 "We believe that many of our patients will benefit greatly from lower stimulation, lower risk, and much lower cost IVF protocols"
Newark, Delaware (PRWEB) April 23, 2013
Reproductive Associates of Delaware (RAD) is now offering Step-It-Up IVF™, a new pilot program that makes IVF treatments safer and more affordable for patients seeking family building fertility care. In the initial phase of the program, Step-It-Up IVF™ is being offered by RAD to good prognosis patients age 32 and under, along with other clinical criteria.
"When we look at our overall approach and success with IVF, which primarily utilizes single embryo blastocyst transfer, we believe that many of our patients will benefit greatly from lower stimulation, lower risk, and much lower cost IVF protocols," stated Dr. Ronald F. Feinberg, IVF Medical Director at RAD. "Our ovarian stimulation protocol for this program utilizes the oral drug clomiphene, followed by a shorter, lower dose of daily gonadotropins."
For many patients pursuing fertility care, the potential for undergoing many months of lower tech treatment poses a significant financial and emotional burden. "Patients are often not given the truth about their chance of pregnancy with highly inefficient ovulation induction cycles," noted Dr. Feinberg. "In the best designed clinical trials published over the past 15 years, ovulation induction coupled with intrauterine insemination leads to a 9 to 10% pregnancy rate after each treatment cycle, with cumulative pregnancy rates of 30 to 35% after 4 treatment cycles. With IVF, the transfer of a single healthy blastocyst embryo to the uterus leads to a pregnancy rate of 50 to 60% after each attempt. With subsequent blastocyst transfers, the cumulative chance of pregnancy exceeds 70%."
Step-It-Up IVF™ has lower risks than ovulation induction, including the risk of multiple gestation, cancellation due to overstimulation, unresponsiveness to ovarian stimulating drugs, and residual cysts from prior treatments.
IVF is often cost-prohibitive for many patients, particularly if they have depleted their financial resources with less successful treatments. "Our goal is to help patients have access to affordable fertility care," noted Eileen Ramos, Director of Patient Services at RAD. "The impact of Step-It-Up IVF™ could be really significant for many people who might have otherwise given up their dream of achieving pregnancy." The total cost of Step-It-Up IVF™ is likely to be 50 to 70% less costly than traditional IVF, primarily due to large cost savings achieved with medications, and clinical and laboratory services.
The Step-It-Up IVF™ Program is now part of RAD's Family of IVF Services, which includes traditional IVF services, fresh and frozen/thawed single embryo blastocyst transfer, Pre-Implantation Genetic Screening (PGS), the PreciousEggs™ frozen donor egg program, and embryo adoption.
To learn more about Step-It-Up IVF™ visit IVF-DE.org/stepitupivf or call 302-602-8822.
RAD's IVF Center, established in 1995, is part of a full service subspecialty fertility practice with locations in Newark, Wilmington, and Dover, Delaware. RAD's Board certified physicians are Drs. Barbara McGuirk, Ronald Feinberg, George Kovalevsky, Adrienne Neithardt, and Lenore Tietjens-Grillo. RAD's IVF, Fertility Care, and Fertility Wellness Centers are located on the main campus of the Christiana Care Health System in Newark. For more information about Reproductive Associates of Delaware visit http://www.ivf-de.org.