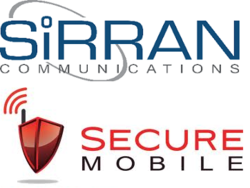 York, UK (PRWEB) April 22, 2013
Counter Terror Expo 2013, held at Olympia in London, April 24th and 25th, is the largest international event for mitigation of threats, protection against terrorist attacks and understanding current modern day government, business and first responder risks in a secure environment.
Secure Mobile, named as a "Cyber Security Innovation" finalist, is the next generation of security for critical mobile communications in government and business; enabling users to communicate with anyone securely in the world while ensuring the integrity of the connection across the global telecommunications network, using their existing smartphone.
SiRRAN Tactical NETSeries; finalist in the 'Best Emergency Response Initiative' provides secure voice, video and data communications to deployed personnel enabling teams of military, intelligence, first responder or remote workers to maintain contact in the most challenging of communications environments. NETSeries is available in 2G, 3G, 4G and LTE variants; meaning solution can be tailored and scaled to client requirement, and are fully interoperable with public carrier networks, Cisco and other private VoIP enabled networks, and SiRRAN's own global Secure Mobile platforms.
SiRRAN Communications will be supporting Emerald Technology Group on Stand B20 in the Cyber Security zone. Patrick Robinson, CEO of Emerald Technology Group, and his team will be demonstrating how SiRRAN's product lines, notably Secure Mobile and NETSeries in their Cyber Security and First Responder roles, help to fulfill the core criteria of the event - protection against terrorist attacks and understanding current modern day risks; by demonstrating the best of breed in resilient communications in the case of a catastrophic events to the leading global experts from within the Police, Emergency Services, Government, Military, Intelligence & Security Services, Private Sector, Large scale site, Oil & Gas, Cyber, Maritime / Anti-Piracy and Critical National Infrastructure sectors.
About Emerald Technology Group
Emerald provides the complete solution for secure, rapidly deployable, military grade telecommunication systems on land or sea. These systems are in use today by many government agencies worldwide. All development, design and manufacture is done in the UK. For more information, please visit http://www.emerald-technologies.com.
About SiRRAN Communications
SiRRAN is a telecommunications software company providing the development and delivery of cost-effective, bandwidth & power efficient, mobile network products and services ranging from private and/or portable mobile networks to secure mobile communications services. For more information, please visit http://www.sirran.com.
About Secure Mobile
SiRRAN's voice and data core technology ensures network integrity by securing the transport and the application layers, even across public wireless networks through the services of SiRRAN's Secure Mobile offering: A mobile application that delivers a unique voice security solution for iOS and Android mobile operating systems ensuring that your calls are ALWAYS secure, regardless of where you are or who your calls are from and to.
For more information, please visit http://www.securemobile.com.