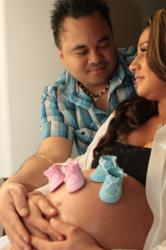 "It is really a dream come true to have these babies on the way," said Ana. "I never could have imagined last year at this time that we would be this close to having a family. I will always be grateful to the Sher Institute for giving us this chance."
(PRWEB) April 19, 2013
With Mother's Day and National Infertility Awareness Week coming up, Sher Fertility Institute is hosting an educational seminar about infertility on Wednesday April 24 at Spring Valley Hospital.
The seminar will be highlighted by the donation of an IVF treatment valued at $11,000 to a seminar attendee.
Exactly one year ago at this seminar, Ana and Mark Nicolas won the donated cycle. It made their dream of parenthood come true.
Ana is scheduled to deliver her twins at Spring Valley Hospital on April 29th. Her twins Hope and Max were conceived with the free cycle the couple won. Without winning the cycle, they never could have afforded the $11,000 treatment.
"It is really a dream come true to have these babies on the way," said Ana. "I never could have imagined last year at this time that we would be this close to having a family. I will always be grateful to the Sher Institute for giving us this chance."
The Nicolas's story underscores the pervasiveness of infertility and how the biggest hurdle for most couples is the financial barrier. One in eight couples suffer from infertility, but only 10% can afford the treatment they need.
National Infertility Awareness Week (NIAW) runs April 21-27. Conceived in 1987 by Resolve: The National Fertility Association, the goal is to shed light on the incidence of infertility in the United States.
Those who don't win the donated IVF treatment won't walk away empty handed. Sher Fertility Institute is offering attendees up to $1,000 in free IVF medications when they undergo IVF treatment at the clinic.
Dr. Jeffrey Fisch, Medical Director of Sher Fertility Institute in Las Vegas performed the IVF procedure on Ana. "We're happy to be able to give back to the Las Vegas community and some of the patients that need our services," said Dr. Fisch. "We see so many patients that need IVF but can't afford it, and we feel like this is a way to help a few of them."
The Institute has been donating IVF treatment to couples for many years as part of their "Giving Back" initiative. To date, they have provided more than 50 such treatments (valued at more than $10,000 each) to couples struggling to conceive. The initiative also includes various other programs that benefit infertile couples:

The Fertility Rescue program - offering free sperm/egg freezing for men and women facing cancer treatment
Discounted treatment for teachers, military families, nurses, and first responders (police, fire, ambulance, etc.)
Video and essay contests hosted through social media channels in which contestants share their stories for a chance to win IVF treatment
Ongoing donated IVF treatment services through the "From INCIID the Heart" IVF Scholarship Program, administered by the International Council for Infertility Information Dissemination (INCIID.org). To date, Sher doctors have provided 30+ free IVF cycles through this program.
Free medical consultations at many Sher Fertility clinics
About The Sher Institutes for Reproductive Medicine
SIRM is one of the largest networks of infertility medical practices in the country. Founded by Geoffrey Sher, MD the Sher Institute family of practices includes offices across the United States. Dr. Sher founded the first private In Vitro Fertilization (IVF) clinic in the U.S. in 1982. The SIRM philosophy is centered on individualized patient care, backed by ongoing scientific and technological breakthroughs.
More information can be found on the Sher Fertility Institute website at http://www.haveababy.com.
####