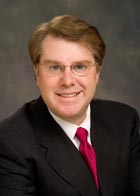 Greensboro, NC (PRWEB) April 22, 2013
Paul Mengert, CEO of Association Management Group, Inc. (AMG), will address worldwide association management industry leaders and executives at the 2013 Annual Conference & Exposition of the Community Associations Institute (CAI). Mengert will be discussing his firm's research and findings related to enhancing small group decisions.
"What we have learned is amazing yet simple. Different people see things differently, both literally and figuratively. When a group accepts that fact and genuinely listens to one another, results improve dramatically," Mengert explained. "Far too often groups make decisions based on first reactions, preconceived notions, or just one person's opinion."
"We have discovered a set of techniques which, if followed, almost guarantee small groups, boards and committees can make better decisions," says the CEO. Over the last several years, his management groups have been studying materials prepared by retired Harvard Business School professor Linda Doyle and the University of Illinois professor Daniel Simons.
AMG utilizes state-of-the-art management systems to enable Homeowner Association (HOA) communities in North and South Carolina to operate more efficiently, increase member satisfaction and increase property values.
Greensboro attorney Carolyn Woodruff, said, "Mengert met with the NC Bar Association's Advocates for Justice group and demonstrated his decision-making process. I was amazed how much his system helps obtain a better result than even the most knowledgeable person in the group could have obtained individually." Woodruff says that as a result of Mengert's research, she and her group have been making decisions more effectively.
With 6 locations in the Carolinas, AMG features state of the art management techniques as well as hands on customer service that have enabled AMG to obtain better than 98% overall customer satisfaction. AMG's unique and proprietary management systems allow them to offer a consistently higher quality of service than their competition. The six independent AMG companies manage over 300 condominium, townhome, and planned unit developments from their offices in Greensboro, Winston-Salem, Research Triangle Area, Asheville and Charlotte, North Carolina, and Greenville/Spartanburg, South Carolina. AMG's philosophy is simple: "Provide superior performance at a competitive price."
To learn more about the company, visit http://www.amgworld.com or http://www.hoacarolina.com .
About Association Management Group, Inc. (AMG)
An effective community association must have effective management in order to protect the interests of the residents within their community, and AMG is the company to provide such management. Enforcing the rules and covenants of a planned community is no small task, and this enforcement often consumes budgets and adds undue stress to officers that help manage the community. AMG has a proven set of processes to help manage these concerns. AMG can also assist Community officers with contracts and insurance and provides a full range of audit services to protect the community's interest.