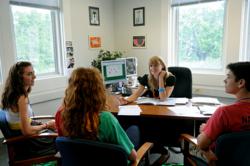 Scottsdale, AZ (PRWEB) April 22, 2013
Almost 90 percent of institutes of higher education nationwide use or are considering cloud computing technologies—including Software-as-a-Service (SaaS) programs—as a dependable and proven alternative to traditional computer software.
Commonly referred to as "on-demand software", SaaS programs are centrally hosted in the cloud, as opposed to an individual desktop computer or network. For example, online scheduling software for booking student sessions is accessible in the same way as Gmail, Amazon and Facebook.
According to an article in Campus Technology, an industry forecast predicts that cloud computing—which includes SaaS programs—will account for 33 percent of all data center traffic by 2015.
Here are the top five ways why SaaS programs can improve academic advising departments:
1. Improved productivity.
Enable your staff to work more efficiently and productively. For example, online scheduling software lets students book appointments online instead of in-person or over the phone. This frees up a significant amount of time that can be utilized more effectively.
2. Greater accessibility.
These programs are not confined to an individual desktop computer or network. They allow faculty to access them from their laptop, smart phone or tablet anytime, anywhere.
3. Mobile apps.
Many SaaS programs offer mobile apps that provide instant access to their applications via smart phones and tablets. For example, a scheduling app allows advisors to quickly manage their appointment calendar.
4. Automatic updates.
SaaS programs are typically updated automatically, ensuring advisors have access to the newest features. Unlike installed software, no manual downloads or installations are needed.
5. Enhanced student experience.
Many SaaS programs allow the end user—students—to access and manage their accounts online. This saves them time as they no longer need to inquiry on their account data via phone or in-person.
Learn how Appointment-Plus academic scheduling software can improve your student retention. Call 800-988-0061. Visit http://www.appointment-plus.com.
#
About Appointment-Plus: Appointment-Plus helps academic advisors streamline their student and resource scheduling with online booking and automated e-mail and text reminders that reduce the no-show rate by 70 percent. The software instantly syncs with Google and Outlook calendars.