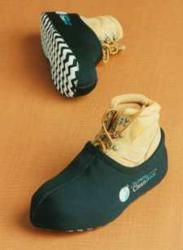 Pittsburgh, PA (PRWEB) April 23, 2013
InventHelp® introduces The Original Cleanboot™, footwear that slips over work boots to protect carpeting and flooring from dirt and markings. Now that building and construction season is upon us, plenty of renovation projects are sure to begin around the home and office. The Original Cleanboot™ eliminates the need for construction workers, plumbers or other workmen to take off their boots or shoes when entering customers' homes or businesses.
The Original Cleanboot™ are made of Neoprene and are lightweight, flexible and slip on and off easily. They are reusable, which studies have found may result in a cost savings over disposable shoe covers. The Original Cleanboot™ enables workers to keep protective footwear on when in a client's home. This not only saves, but also helps to eliminate accidents or foot injury. The Original Cleanboot™ also features rubber grippers on the bottom of the footwear.
The Original Cleanboot™ is available in small which fits men's shoe sizes 6.5 to 8.5, medium which fits 8.5 to 10.5, and large which fits 10.5 to 12.5. Suggested retail price $24.95 plus S & H.
InventHelp is seeking marketers and distributors in the building and construction industry and direct response. The Original Cleanboot™ is available on InventHelp Store, a website of innovative new products by InventHelp's licensing and product marketing partner Intromark Incorporated. For more information or for ordering, contact us at 217 Ninth Street, Pittsburgh, PA 15222; call (800) 851-6030 or (412)288-1368; fax (412) 338-0497.
Manufacturers interested in reviewing additional inventions and new product ideas can contact Intromark by filling out an online request to review new product ideas here.