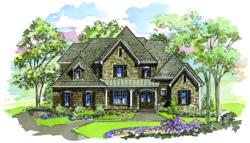 CHARLOTTE, NC (PRWEB) April 20, 2013
Arthur Rutenberg Homes' Charlotte franchise, Paragon Homes of Charlotte, Inc., announced today that its new Arthur Rutenberg showcase model home at The Woodlands at Cheval in Mint Hill, is now open to the general public.
The Asheville 1219 is part of Arthur Rutenberg Homes' new Southern Design Collection of plans developed for the Carolinas region and demonstrates what today's buyers want. Blending fresh and innovative design with function and value, this home is distinctive with 4 bedrooms, 4.5 baths, Den, and 2nd floor Bonus Room professionally decorated; And, now, homebuyers can walk in and see it!
The 3,965-square foot Asheville model is a quintessential Arthur Rutenberg design blending fresh and innovative interior design with function and value. "The home luxuriously merges indoor spaces with its scenic wooded setting. The expansive two-story model is professionally decorated and showcases today's newest floorplan trends and conveniences, plus is loaded with the features that buyers expect at much higher prices," explained Jim Rosewater, co-owner along with Mitch Genda of Paragon Homes of Charlotte.
Located at 4223 Piaffe Avenue, The Asheville 1219 is situated in the Woodlands at Cheval, an intimate, nature oriented equestrian community set amidst the wooded countryside of Mint Hill, North Carolina. The estate settings at Cheval provide a beautiful transition from gracious indoor living to the fresh air pleasures of the outdoors. The community features a wide range of large homesites with access to three parks and endless walking trails. Professional horse boarding and training is also available in Cheval at The Joli Cheval Equestrian Center.
The Asheville 1219 is Paragon's second model home replacing the popular Asheville 1131 model that was open for 18 months in Springfield in Ft. Mill, SC. "We've taken all the popular features of our wildly successful original Asheville model and updated it," said partner Mitch Genda. "This new Asheville features a more open laundry room, wine cellar, curved wet bar, an extra bathroom, an even larger covered rear porch, and more. We incorporated features our customers ask for. It's really quite an exceptional home."
"And, The Woodlands at Cheval is truly a hidden gem of a community," added Rosewater. "There are very few quality custom home communities in South Charlotte today. The developer of the Woodlands really made the extra effort to deliver beautiful home sites for homebuyers looking for a special place to call home. It's really worth visiting.
To learn more about or visit Arthur Rutenberg Homes at Woodlands at Cheval, please call the sales office located in the Asheville model - 704-545-9900.
About Arthur Rutenberg Homes
Arthur Rutenberg is celebrating 60 years in the homebuilding industry and has been a respected name in Florida homebuilding since 1953, when he built his first home upon the four "cornerstones" that would make him legendary: design, craftsmanship, service and responsibility. Today, Arthur Rutenberg Homes, Inc. is one of the largest networks of independently owned and operated homebuilding companies in the nation, with franchised homebuilders throughout Florida, North Carolina, South Carolina and Tennessee. For further information, contact Gabriella Nelms at 727-536-5900.
About Paragon Homes of Charlotte
Paragon Homes of Charlotte, Inc. is an independently owned and operated franchise of Arthur Rutenberg Homes and is recognized as the leader in custom homes throughout South Charlotte; from Ft. Mill, SC to Mint Hill in NC. Operated by Partners Mitch Genda and Jim Rosewater, Paragon is driven to deliver the finest custom homebuilding experience possible, one home at a time.
In addition to The Woodlands at Cheval, Paragon Homes of Charlotte builds in The Club at Longview, Heron Cove on Lake Wylie, High Gate, Kingsmead, Springfield in Ft. Mill, SC and other quality Charlotte communities. They also specialize at building on customer owned property. For further information, contact Paragon Homes of Charlotte at 704-889-0218.