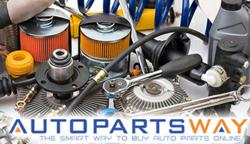 (PRWEB) April 23, 2013
April 18, 2013: AutoPartsWAY has been honored with the 2012 Best in Business Award in New York for Automotive Parts. This award was given by the Small Business Community Association with the goal of honoring business owners who make a real difference in their communities. 2012 is the fourth consecutive year that AutoPartsWAY has received this award. AutoPartsWAY has also received several other honors for catalog, fulfillment and customer service.
AutoPartsWAY is a premier online automotive superstore with over 4.2 million domestic and foreign auto parts for sale. AutoPartsWAY is proud to carry millions of OEM and aftermarket auto parts, tires, wheels, accessories, performance parts and offers discounted prices at up to 80 percent off retail price. With a large nationwide warehouse network, AutoPartsWAY offers customer fulfillment of most orders within one to two business days.
The Small Business Community Association (SBCA) honors business owners who are role models in their community. The SBCA offers young entrepreneurs a place to reach for their goals, share their dreams and learn from the accomplishments of others. In addition to it awards, the SBCA also offers business resources, trainings and community forums for individuals in a range of industries.
AutoPartsWAY provides a massive inventory at extremely competitive prices and is proud to offer free ground shipping on orders over $100. To ensure complete customer satisfaction, AutoPartsWAY offers a 15-day return on all items purchased, provided they are returned in the exact condition received. AutoPartsWAY protects customer security and personal information by using a firewall and state-of-the-art SSL (Secure Sockets Layer) encryption and by maintaining a policy not to sell customer information. To learn more about the inventory available for sale or to purchase inventory over their a secure website, visit http://www.autopartsway.com/