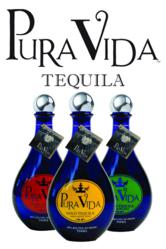 The company's highly anticipated East Coast launch will take off April 25, 2013 at The Hard Rock Hotel and Resort, Orlando beginning the weekend festivities with a Velvet Sessions concert of the Grammy nominated 80s hit rock band ASIA
Houston, Texas (PRWEB) April 18, 2013
Pura Vida, "The World's Best Damn Tequila" and Back Stage favorite to musicians in the know around the world, announces another significant strategic move to further anchor their ever expanding national presence. Pura Vida's founder and Chairman, Stewart Skloss, announced that Republic National Distribution Company (RNDC) has been commissioned to be Pura Vida's distributor in the premier tequila market of Florida under the tutelage of RNDC regional President, Tom White, effectively expanding Pura Vida's current reach into eight states.
The company's highly anticipated East Coast launch will take off April 25, 2013 at The Hard Rock Hotel and Resort, at Universal Studios in Orlando beginning the weekend festivities with a kinda "Old School meet New Cool" Velvet Sessions concert with the Grammy nominated 80s hit rock band ASIA. The inclusion of a rock legend as part of its launch is on-par with Pura Vida's rock-n-roll image that includes investors Billy Gibbons of ZZ TOP, Sully Erna of Godsmack, Charlie Sexton, etc…
"Pura Vida Tequila is excited to partner in Florida with RNDC – best in class and highly recognized in the industry, they are the perfect partner in this expansion. We are lucky to be working with such Florida industry leaders as Bill Wickham and Bill Barnes, with their direction and support, we are going to make some great waves- Florida way" said Skloss.
Pura Vida Tequila premiered with a Texas-only debut in 2011, finishing the year with impressive numbers that earned its position as the 10th top selling tequila in the state. With this success, the eager tequila company set its sights on the West coast with a 2012 California red carpet roll-out at The Hollywood House of Blues 20th Anniversary fiesta with a guest list of celebrities such as Dan Akroyd, Jim Belushi, ZZ Top, John Paul DeJoria, Billy Bob Thornton and Ke$ha to name a few. After only six months of aggressive growth in California, Pura Vida expanded into Arizona, Colorado, Louisiana, Nevada and New Mexico, increasing its U.S. tequila stronghold to seven states and 43% of the available consumer tequila market. The addition of Florida, which controls 5.8% of the U.S. tequila market, the third top tequila consumer state, Pura Vida's reach is fast approaching 50% of the US tequila market.
Industry research indicates that tequila is becoming hotter than ever – and as its popularity expands, expectations are rising for the highest value captured at the best price – a feat that Pura Vida has pulled off time and again namely through introducing the only ultra-premium tequila available under $30. Additionally, research indicates what the makers of Pura Vida have always known – that tequila aficionados are becoming increasingly attuned to the body, taste, and smoothness of high-end tequila. Like connoisseurs of wine, today's tequila drinkers are increasingly sophisticated and will immediately identify – and reject – an inferior product.
An additional development, announced by Skloss, is the appointment of liquor industry veteran Charles "Chip" Hartnett to the position of Eastern U.S. Regional Manager for Pura Vida Tequila. "Pura Vida has done an amazing job in attracting celebrity investors. I have really had a great time working with the likes of Billy Gibbons (ZZ TOP) and Mike Hampton (former MLB All-Start pitcher) on our Hotel and Resorts campaign in Florida, let the good times roll!" said Hartnett. Hartnett, whose past accolades include such positions as Director of National Accounts for Castle Brands, is an established expert for product rollouts and national growth strategies. Hartnett brings solid experience to the stage including the coordination of notably successful launches of Pierras Tequila and Goslings Rum. For the past year, Hartnett has served as the Pura Vida Tequila State Director for Arizona, Colorado, New Mexico and Nevada while he patiently awaited his opportunity to shine on the East coast via Florida, the Sunshine State.