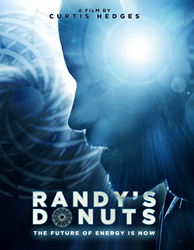 Nothing in the physical world ever moves in a straight line, not a bullet shooting, not lightning coming down from the sky. Everything is a coil, even a photon coming from a distance star proving relativity exist.
(PRWEB) April 30, 2013
Based off of the theory of vortex-based mathematics, the film Randy's Donuts is a grassroots effort to spread knowledge about the universe that has the potential to revolutionize the alternative energy market to provide for exponential growth. In order to spread awareness to academia and to fund further research to solve the world's energy crisis, the creators of the film and book are seeking donations from generous supporters.
The intent for the creation of Randy's Donuts, as well as the book, is to spread and inform the public, as well as academia, about vortex-based mathematics and the potential benefit this theory could have for the well-being of humanity. The film and book will be free of charge to educational establishments across the world, allowing for peer review opportunities, white paper submissions, debates, presentations, and further research into vortex-based mathematics. The book will reveal the ABHA Torus mapped out in sequence, to provide a step-by-step learning guide for interested researchers.
Randy's Donuts is based off of Marco Rodin's nine-digit equation, which is the basis of vortex-based mathematics. According to the studies, Marco's unique mathematical perspective provides detailed insight into the nature of the universe.
During his research, Marco Rodin stated that "I devised and designed not only my own tools, but tools that are based on perfection, the axioms, the universal truths of the universe. Essentially, I claim to have discovered perfection."
Randy Powell, an active mathematician playing a major role in the production of Randy's Donuts, claims to have modeled and rendered the equation into the three-dimensional world, revealing the shape of a torus or donut, officially known as the ABHA Torus. If harnessed, according to Powell, the energy produced by the ABHA Torus would allow society to produce inexhaustible free energy, greatly reducing the stressors currently put in place on the earth by fossil fuels and resource-based energy.
"The problem is not a lack of collective desire for positive future, but the lack of a collective vehicle for positive actions," says Powell.
About Randy's Donuts
Randy's Donuts The Movie - Support Video # 2
Director: Curtis Hedges
Executive Producers: Jose Escamilla & Curtis Hedges
Producers: Chuck Middaugh, Scott Graham, Alan Crawford, Saskia Binder.
Associate Producers: Ramon Govea, Gerry St Onge, Ryan Brookhart, Tonia Madenford
Editor: Jose Escamilla
Torus Mapping and Animations: Chuck Middaugh & Tom Barnett.
Created by: Curtis Hedges & Randy Powell
Starring: Randy Powell & Marko Rodin
Co-Starring: Daniel & Erica Nunez,
Special Appearance by: Berlyn Hedges
Additional Footage and Photos Courtesy of: Mike Hedge and Tyler Thurmond
Photos Courtesy of: Mike Hedge
Live updates and additional information regarding Randy's Donuts can be found on Facebook,
Twitter, and YouTube.
About TBLNFilms.com
TBLN Films (The Borderland Network) founded by Director/ Researcher Jose Escamilla and spearheaded by Executive Producer Curtis Hedges, is an independent film studio out of Mission Hills, CA with a strong focus on paranormal documentaries, and is considered by many enthusiasts as the #1 paranormal film studio on the internet.
http://www.tblnfilms.com