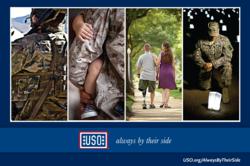 Today's USO is always by their side, constantly meeting the needs of troops and families in new and imaginative ways
Arlington, VA (PRWEB) April 18, 2013
Whether troops and families are enduring the stresses of deployment, battling visible or invisible wounds of war or have made the ultimate sacrifice for our country, the USO is there for our servicemen and women and their families. This spring, the USO is inviting Americans to support the USO in its effort to be always by the side of troops and their families.
Always By Their Side offers a deep and engaging look at the depth and breadth of the USO's support of troops and military families, through its centers, programs and services. At USO.org/AlwaysByTheirSide Americans can view stories and videos that show the USO's impact on our military heroes every step of their journey: on the frontline, with their loved ones, in recovery and in remembrance. The USO's 2012 Annual Report, Always By Their Side, released this month, confirms that the USO continues to meet the critical needs of those who need the organization most. In 2012 alone, the USO provided:
•Deployed troops with 28 million free phone calls home from the frontlines
•120,000 military families with entertainment through the Sesame Street/USO Experience for Military Families tour
•Wounded, ill and injured troops and their caregivers with a new, 20,000 square foot USO Warrior and Family Center at Fort Belvoir, VA, as well as support to 35,000 wounded warriors and family members through 29 USO Warrior and Family Care Programs; and
•3,000 families of the fallen with assistance while traveling to Dover Air Force Base for the dignified transfer of their loved ones.
"Today's USO is always by their side, constantly meeting the needs of troops and families in new and imaginative ways," said USO President and CEO Sloan Gibson. "This would not be possible without the dedication of our staff and volunteers and generous contributions of our partners and the American people. Together we deliver a level of support that is unparalleled and one the USO is dedicated to providing a lot more of this year, and in the future."
Unlike any other organization in the world, the USO has the:
•Scope that allows it to be with troops at the frontlines, with families as they endure long deployments and with injured troops while they are recovering.
•Scale reflected in nine million visits to USO centers and more than 650 entertainment events in 2012 alone.
•Presence felt around the globe, with more than 160 locations worldwide, including 45 airport centers and nine centers in Afghanistan.
•Reach that's made possible by the USO's hundreds of collaborations with best-in-class organizations which help the USO be there for troops and families in the most powerful ways.
•Knowledge of what troops and families need most through millions of face-to-face encounters at locations around the world.
•Trust of troops and their families, civilian and military leaders, donors and corporate partners, program collaborators, celebrities and volunteers earned through the USO's ability to continually adapt to the needs of the military and always deliver on its promise.
To learn more, download the USO's 2012 Annual Report at USO.org/AlwaysByTheirSide.
# # #
About the USO
The USO lifts the spirits of America's troops and their families millions of times each year at hundreds of places worldwide. We provide a touch of home through centers at airports and military bases in the U.S. and abroad, top quality entertainment and innovative programs and services. We also provide critical support to those who need us most, including forward-deployed troops, military families, wounded warriors and families of the fallen. The USO is a private, non-profit organization, not a government agency. Our programs and services are made possible by the American people, support of our corporate partners and the dedication of our volunteers and staff.
In addition to individual donors and corporate sponsors, the USO is supported by President's Circle Partners: American Airlines, AT&T, Clear Channel, The Coca-Cola Company, jcpenney, Jeep, Kangaroo Express, Kroger, Lowe's, Northrop Grumman Corporation, Procter & Gamble, and TriWest Healthcare Alliance and Worldwide Strategic Partners: BAE Systems, The Boeing Company, Lockheed Martin, Microsoft Corporation and TKS Telepost Kabel-Service Kaiserslautern GmbH & Co. KG. We are also supported through the United Way and Combined Federal Campaign (CFC-11381). To join us in this patriotic mission, and to learn more about the USO, please visit uso.org.