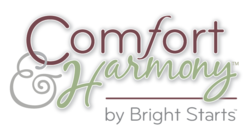 As a new mom, she will have many decisions to make.
(PRWEB) April 19, 2013
Congratulations to Hillary Scott of Lady Antebellum and her husband, drummer Chris Tyrrell, from the team at Comfort & Harmony, a leader in nurturing baby products. The couple announced that they are expecting a baby girl mid-summer.
"As a new mom, she will have many decisions to make. For one, she will have to choose whether to breastfeed or formula feed," said Alyson Grubard, Director of Brand Management & Licensing for Kids II, the parent company of Comfort & Harmony.
Breastfeeding can be more difficult for working moms and chances are Scott will be a working mom. The singer has spoken often about her love of what she does, as she did in one interview with the Houston Chronicle.
"The good thing is, a mom can work and breastfeed. Balancing both can be a challenge, but it can be done and breastfeeding offers many benefits to both mothers and their babies," said Grubard.
If a mom plans to breastfeed and return to work, getting breastfeeding off to a good start is important. This means doing everything that can be done to make breastfeeding work well in the early weeks.
New moms love and appreciate the mombo™, a nursing pillow from Comfort & Harmony. Mombo makes breastfeeding easier. The pillow has a unique shape and a two-sided design called Firm2Soft™. Each side of the pillow offers baby a unique experience. The firm side provides support for both mom and baby. The soft side is designed for lounging, tummy time and sitting up. The mombo pillow is the first two-sided nursing pillow with a soothing vibration feature.
A diverse and stylish assortment of slipcovers allows the mombo pillow to be color-coordinated and customized.
"The mombo helps with bonding and breastfeeding," Grubard said. "It could provide comfort for Scott and her baby on a tour bus as well as in their living room."
Beyond pillows, Comfort & Harmony offers a number of other indispensable items for mom and baby, including bouncers, swings, seat covers and more.
ABOUT COMFORT & HARMONY™
The Comfort & Harmony brand is designed to exceed baby's comfort needs while appealing to mom's sense of style. Thoughtfully designed to create a supremely cozy environment for baby in sweet and heartwarming fashions that mom adores, the brand offers nursing pillows, swings, bouncers, shopping cart covers and rockers. Every Comfort & Harmony product incorporates nurturing features, such as ergonomic designs and plush fabrics that pamper mom and baby where it's needed most.
Headquartered in Atlanta, Georgia, Comfort & Harmony is one of the seven brands under Kids II, Inc., manufacturer, designer and marketer of toys and baby gear. Visit http://www.kidsii.com
ABOUT KIDS II, INC.
Kids II has been inventing and reinventing baby and infant toys and gear for more than 40 years and has quickly become one of the world's fastest growing baby product companies. Headquartered in Atlanta, Kids II spans globally with operations in six continents serving customers in more than 70 countries. Driven by innovation, design and a comprehensive brand portfolio, Kids II is the next generation leader of infant and toddler products.
Kids II designs, markets and distributes more than 400 unique infant and toddler products, selling more than 22.8 million items per year. On average, it launches 125 new products a year. Under its flagship brands, Kids II has produced more than 100 award-winning products.
The brand portfolio strength runs deep under the Kids II umbrella, which includes its signature brands Bright Starts™, InGenuity™ and Comfort & Harmony™, as well as licenses to design and manufacture products for Disney™, Baby Einstein™, Oball™ and Taggies™.
Kids II's international affiliate operations are located in Australia, Canada, Europe, China, Hong Kong, Japan, Mexico and South Africa. Visit http://www.kidsii.com