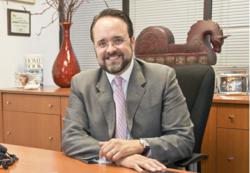 Brickell and Downtown Miami is simply South Florida's most sought after place to live.
Miami, FL (PRWEB) April 25, 2013
Brickell Avenue in Miami, FL., is one of the most sought after addresses in the United States. Brickell's condo area is synonymous to wealth and prestige, once considered the heart of International Business in Miami, Brickell is now also a vibrant place to live!
"After the 2006-07 periods nothing new transcended on Brickell, it was mainly an International Banking and Business Center," says Emilio J. Cardenal Broker and CEO of Interinvestments Realty. "But now, with all the new residential developments, restaurants, entertainment and retail establishments, Brickell is simply South Florida's most sought after place to live."
"In many of the existing condominium developments in Downtown Miami and Brickell, prices have reached the same levels of 2006-2007, which is great news," continues Cardenal. "The new developments in the area that are currently under construction, like MyBrickell, and 1100 Millicento Residences have had great success and are primarily sold out. In the next few months a new wave of posh developments will be coming to the market in Brickell, offering upscale amenities and ultra luxury finishes. These new developments will soon be setting the benchmark for brand new high-end condominiums in the area."
"When the market bottomed, financing disappeared totally. Brickell was specifically singled out for its great proliferation of condo/hotels, its incidence on foreclosed properties, and its large number of unsold inventory. During that period, a lenders approach to financing new and resale residences in Brickell, which was one of the most affected during the crash of the market, was to proceed with caution. But, by the same token, Brickell has been the fastest area to rebound in the South Florida marketplace, making today's Brickell real estate market the strongest ever! This new situation created a renewed interest by lenders not only to finance the sale of the properties, but also to fund the construction of the projects for our local Builders," adds Cardenal. "This rebirth was due to high demand by buyers and investors coming from Latin America."
"The most recent development in the area is the SLS Hotel and Residences. It's located on 13th St., and South Miami Avenue. The development offers 1, 2 and 3 bedroom units, ranging in price from the $300s to $800s. This development will also have a boutique hotel component and three signature restaurants on the street level: the famous Jose Andres Bazaar, Katsuya and a restaurant by Michael Schwartz," explains Cardenal.
"From my own experience, based on many years managing hundreds of units in the South Florida market, the units at Brickell tend to get leased faster and at a premium, so they also can be great investments properties, too," continues Cardenal. "If you think, Brickell and Downtown Miami has grown fast, you have not seen anything yet. In the next seven years we will see a total transformation, when the Miami 2020 project will be completed; it will elevate Brickell and Downtown Miami to a totally new level. Art museums, cultural centers, mega shopping centers, hotels, offices complexes and more residential developments are underway. The new Brickell and Downtown will bring more amenities, pedestrian friendly areas and a much more sophisticated lifestyle."
If you want more information about the best new-construction projects in the area, or information on resale properties, please call us at the telephone number that appears in our contact information, next to this communication.