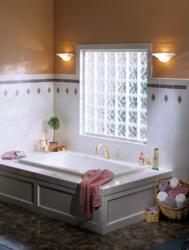 Morris, Illinois (PRWEB) April 19, 2013
Luckily there are companies like Quality Glass Block and Window Co. that help their customers to better understand their products and how to properly work with glass blocks for optimal results.
The first step would be to ensure the glass block window is going to fit before removing the sash. If the measurements were taken properly, then this will not be a problem, but if it doesn't fit and the sash is damaged during removal, then there will be additional costs for having the window boarded up until the new window can be made. Before any work is done, verifying the sizing is always a smart route to take.
Secondly, preparing the opening is crucial. Chisel away any obstructions and set shims where the window will sit.
Third, putting the window in place takes a little finesse. It is a good idea to have another person on the other side of the window when setting it in place to hold the glass block window in place so it does not fall through the opening. If your sizing is correct, there will be very little room for hands and fingers to hold the glass block window in place, so the person on the other side will help keep the window standing horizontally. One more tip before attempting this step is to have shims, level and carpenter bar close by or in a tool belt for quick access.
Once the window is in place, level, plumb and distributed evenly, tap some more shims into the top of the glass block window to hold the window in place while the parting stop is being prepared for the interior.
Last but not least, install the parting stop around the interior and caulk using clear glass block silicone. The glass block silicone will help to hold the window securely and prevent moisture from getting between the glass block window and the parting stop. If water does get back there, it will most definitely lead to mold later but use too much and it will be messy.
Now the glass block window has been installed into the wood frame, all which is left to do is to put the finishing touches based on the scope of the project, such as exterior framing, interior molding or tile. For a more detailed look at the complete process, visit Quality Glass Block and Window's blog where a detailed list of materials and the complete glass block window installation process can be used as a handy reference when quoting or even performing this type of glass block window installation.
Quality Glass Block and Window Company is a leading provider of glass blocks used for glass block windows, shower enclosures and vents. In addition to wholesale glass blocks, Quality Glass Block and Window Company provides installation services or guidance for do-it-yourself builders and homeowners.