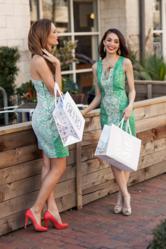 "Now that I have my shopping bags, my brand feels complete. When someone walks out of my store with a Chloe Dao bag, I feel extremely proud."
Houston, TX (PRWEB) April 22, 2013
Creative Retail Packaging, Inc. recently partnered with Chloe Dao, winner of Project Runway season two, to develop retail shopping bags for her designer clothing line DAO Chloe DAO. As part of a complete rebrand of her company, Dao decided to work with CRP to upgrade her packaging, shifting from post-printed to custom designed shopping bags.
"For me, having a beautiful shopping bag is a huge reflection of your brand - it's what your customer carries home, and should be a positive reminder of their in-store experience," said Dao. "I contacted CRP because my good friends at Elaine Turner recommended them. I admire her company and her bags, and wanted the best for my own. CRP helped me achieve my goal of creating a luxury bag that reflects my brand."
Dao's new shopping bag assortment includes three sizes of custom printed paper bags with a chrome hot stamp and heavy weight white grosgrain ribbon handles. Graphic designer Dimitry Chamy created the artwork for Dao, which consists of the company's logo (designed by Chamy) on the front and back, and a unique geometric patterning on the side gussets.
"Dimitry's design began with my logo, which he created around the shape language of the "D" and symmetry of my last name [Dao]. The mosaic-like pattern was created using these elements from my logo, which I love. We chose to use a white, gray, and chrome color scheme on our bags because it is classic and speaks 'luxury.' The handles took the most time to decide upon. The grosgrain we chose has a great weight to it, which perfectly offsets the chrome print," explained Dao.
The bags are currently distributed to customers at Dao's newly redesigned storefront located in Houston's Rice Village shopping center. "I think this really completes my rebranding; last year's focus was on my store and website, but now that I have my shopping bags, my brand feels complete. When someone walks out of my store with a Chloe Dao bag, I feel extremely proud."
Chloe Dao boutique, formerly LOT 8, is a Houston-based boutique located in the Rice Village shopping district. Owner Chloe Dao opened the shop in 2000, and is now widely known as the winning designer from Bravo's Project Runway, Season 2. Her clothing line DAO Chloe DAO offers a ready-to-wear collection, limited edition pieces, and bridal gowns.
CRP is a Houston-based company with over 30 years of experience in the design and sourcing of custom retail packaging. The company also specializes in strategic brand development, design, and logistics. CRP has offices in Seattle, Houston, and Chicago, and operates three regional warehouses across the United States.