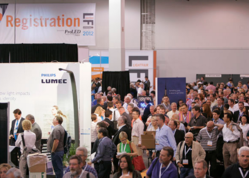 LIGHTFAIR International is expected to draw 23,000 design, lighting, architectural, engineering and industry professionals
Philadelphia, PA (PRWEB) April 18, 2013
Although LIGHTFAIR International is expected to draw 23,000 design, lighting, architectural, engineering and industry professionals, many in the industry will not be able to attend this industry-leading lighting conference. Experts from Leapfrog Lighting Inc. will attend the conference daily, reporting on behalf of those who cannot attend, bringing vivid details of new technologies, developments, industry news, and workshop tips.
"At first, we decided to just send reports back to other members of our team, those who needed this important industry information but couldn't attend," explained Stephen Naor, CEO of Leapfrog Lighting Inc. "It evolved from there. Many of our partners in the industry are not able to attend and since we're there anyway, we decided to report highlights of what we see, hear and learn to anyone who wants the information." The reports will go our live from the conference by Twitter, under hashtag #LFI2013, and daily in full reports on the Leapfrog Lighting blog. The full twitter stream can be found at @LeapfrogL starting April 23, 2013.
Lightfair® International 2013 (LFI®) is the largest annual conference for the industry, bringing together the top experts from the international architectural, design, engineering, energy and lighting and industry professionals. The show in Philadelphia, PA, at the Pennsylvania Convention Center, will feature 6 pavilions of leading manufacturers, presentations, events, and more than 200 hours of accredited education ranging from 90 minute sessions to 2 day immersion sessions. While Leapfrog's team of experts cannot attend and report on every workshop, they are committed to varied coverage and highlights.
Correspondent Sarah Bailey, who will report from the floor, said, "I'll be tweet-reporting as we go, live through the event, and reporting daily in our blog on the activities on the floor and in workshops. I'll be filing notes and stories each day on our blog and live on Twitter under #LFI2013.
There will be a lot to cover and a constant flow of possible topics and interview subjects. The show is attended by architects, landscape designers, contractors, distributors and wholesalers of lighting, lamp manufacturers, lighting designers, electrical engineers, engineers, OEMs, municipalities, consultants, public utility specialists, retail designers, specifies, facility managers and government officials all in attendance.
"Of course we can't cover it all, but our reports will capture the top highlights," said Sarah Bailey.
Stephen Naor, CEO of Leapfrog highlighted why he felt it was important that Leapfrog Lighting to tweet and report from the show. "We're going because we support the industry. If we want to obtain our corporate mission goal—to be the benchmark for quality of light in LED lamps—we need to learn and share with our industry partners. This industry moves fast."
Leapfrog Lighting develop retrofit specification-quality LED lamps that provide "improved glare control, light distribution and color consistency," according to Canadian Federal Minister Gary Goodyear, at a recent press event highlighting Leapfrog Lighting's ongoing research and development. The Minister of State for Science and Technology praised "measurable improvement on lighting quality required by facility managers, institutions, architects and retail businesses."
The current Leapfrog Lighting product line includes MR16, PAR30, PAR38 and PAR20 lamps that provide industry-leading output power through high-efficiency LED source and driver electronics. The innovative lens designs create a pleasing, glare-free light suitable for use in all indoor and unexposed outdoor down-lighting applications. The lamps also deliver the high CRI and ultra-consistent color temperature control critical to multi-lamp applications in hotels, restaurants, schools, office buildings, museums, galleries, retail operations and other public spaces. With a life expectancy of 40,000 operating hours, these UL-registered lamps provide more than 27 years of service at 4 hours per day.

Intelligent Optics is a trademark owned by Leapfrog Lighting Inc.
Lightfair® International (LFI®) are trademarks of Illuminating Engineering Society (IES, http://www.ies.org)