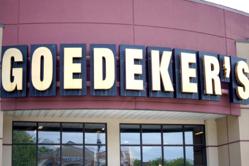 KitchenAid Up to $50 Smart Savings on Smart Kitchens Rebate
Ballwin, MO (PRWEB) April 20, 2013
A new KitchenAid appliance rebate was released on April 18, 2013 and is available at Goedeker's.
Rebate information:
Expires: 04/28/13 - KitchenAid Up to $50 Smart Savings on Smart Kitchens Rebate
From the rebate form: "Delivery OR Installation Allowance via a MasterCard Prepaid Card by mail with purchase of a select KitchenAid Brand Refrigeration or Cleaning appliance."
Visit Goedeker's rebate page for more information.
About Goedeker's
Founded in 1951, Goedeker's has grown into a premiere online retailer of appliances, furniture, mattresses and plumbing supplies. Goedeker's tradition of hometown service and discount prices on high-end appliances continues since embracing the Internet. To learn more about Goedeker's appliance package deals or to read more about the Goedeker's story, visit Goedekers.com.