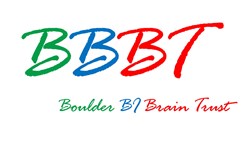 Presenting to the BBBT is a priceless opportunity to interact with the industry's most influential observers." Paul Kent, Vice President of Big Data, SAS
Boulder, Colorado (PRWEB) April 19, 2013
The Boulder BI Brain Trust (BBBT), a gathering of influential business intelligence (BI) analysts, experts, and practitioners, has heard from the inside how business analytics leader SAS helps enterprises deal with – and profit from – big data.
Big data is a reality, even for small or mid-size organizations with no more data than they had before. This is the view that SAS Vice President of Big Data Paul Kent and BI Product Manager Justin Choy shared with BI industry influencers group today.
The volume, variety and velocity of data coming into organizations is challenging enough, said the SAS presenters. But more daunting is the complexity of the calculations they want to apply to it – because data alone provides no value without analytics. Visit Big Data - What is it? to learn more about big data and how SAS addresses customers' big data needs.
For the BBBT, Choy and Kent presented an architectural approach to harnessing big data analytics, showcasing end-user tools that help make sense of this data. Key technologies for finding value in big data include SAS High Performance Analytics and SAS Visual Analytics.
"Presenting to the BBBT is a priceless opportunity to interact with the industry's most influential observers," said Kent. "They are sharp and very well informed so it's important to present a cohesive strategy absent of spin. I greatly enjoyed this meeting of minds."
About BBBT:
The Boulder Business Intelligence Brain Trust has served the BI industry since 2006. It is a consortium of approximately 80 industry analysts and experts from around the world. BBBT events are 1/2 day BI vendor presentations, similar to analyst briefings, streamed live as webinars exclusively to BBBT members. It's a reciprocal arrangement, the members receive the latest information on current and planned BI tools and technologies, and the vendors get valuable feedback on their offerings, marketing, and messaging.
About SAS:
SAS is the leader in business analytics software and services, and the largest independent vendor in the business intelligence market. Through innovative solutions, SAS helps customers at more than 60,000 sites improve performance and deliver value by making better decisions faster. Since 1976 SAS has been giving customers around the world THE POWER TO KNOW®.
SAS and all other SAS Institute Inc. product or service names are registered trademarks or trademarks of SAS Institute Inc. in the USA and other countries. ® indicates USA registration. Other brand and product names are trademarks of their respective companies. Copyright © 2013 SAS Institute Inc. All rights reserved.