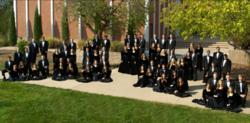 Seward, Neb. (PRWEB) April 19, 2013
The Concordia University A Cappella Choir recently returned from a six-day tour of the Midwest. The choir will give two home concerts to close the tour on Sunday, April 21. The first concert will be at 3 p.m. at Christ Lutheran Church, located at 4325 Sumner St. in Lincoln, Neb. The final performance will begin at 7 p.m. at St. John Lutheran Church in Seward, located at 919 North Columbia Ave.
The choir, directed by Concordia Professor of Music Dr. Kurt von Kampen, will perform sacred and secular choral pieces, including "Rejoice Now, Heavenly Hosts," written by David von Kampen, "Magnificat" by Charles Theodore Pachelbel, "No Time," arranged by Susan Brumfield and "The Lord's Prayer" by Eric Richards, among several others.
The choir toured with Paul Soulek, director of parish and school music at St. John Lutheran Church. The concerts will feature Soulek on organ and piano, senior Robert Cody on trumpet and percussion, senior Katelyn Sievert on Oboe, senior Stephanie Mueller on flute, senior Joseph Beran on percussion and junior Nathanael Pfeil on bass.
Vocal soloists will include freshman tenor Jordan Miller, junior soprano Olivia Oetting, senior tenor James Jensen, junior tenor Alexander Klenz, freshman soprano Andrea von Kampen and senior soprano Holly Saalfeld.
Following Concordia's spring semester, the A Cappella Choir will embark on a three-week tour of Europe May 11-June 3, performing in Switzerland, Germany, the Czech Republic, Slovakia, Poland, Lithuania and Latvia. Visit cune.edu/music for the full European tour itinerary.
Concordia A Cappella Choir has been performing concerts and joining congregations in worship for 74 years. More than 180 students audition each fall for one of 72 spots in the internationally renowned concert choir. Student membership includes majors from most academic disciplines at the university and represents more than 15 different states and foreign countries.
One of the United States' oldest touring Lutheran college choirs, the A Cappella Choir has performed throughout the U.S. and its international tours have included Greece, Italy, France, Egypt, Israel, Lebanon, India, Thailand, Hong Kong, Taiwan, Japan, the Philippines, Germany, Czech Republic, Slovakia, Austria, Spain, Mexico and Australia.
The choir has been invited to perform for music conferences, choral festivals and international competitions in recent years. They received the Gold Medal for performance at the 12th annual Australian International Music Festival and earned a spot in the winners circle at the 42nd annual International Choral Competition in Spittal an der Drau in Austria. The choir has regularly performed for the Nebraska Music Education Association's annual conference and was one of two Nebraska choirs selected to perform for the American Choral Directors Association North Central Division choral hour in March 2006.
Concordia University, Nebraska, founded in 1894, is a fully accredited, coeducational university located in Seward, Neb. that currently serves over 2,200 students. Concordia offers more than 50 professional and liberal arts programs in an excellent academic and Christ-centered community that equips men and women for lives of learning, service and leadership in the church and world. For more information, visit cune.edu.