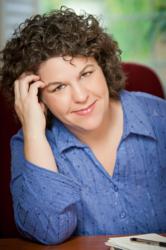 "Clear and affable spiritual guide for the rest of us."

— Publishers Weekly
(PRWEB) April 19, 2013
Polly Campbell lets listeners in on the secrets to "extraordinary enlightenment for ordinary people" in her interview today at 10pm PST on Coast to Coast AM. Campbell regularly writes and speaks about coping, stress, spirituality, and mindfulness, and updates her website with insightful and practical articles. Most recently, she shares three ways to feel better when the world is falling apart and the power of synchronicity, also known as meaningful coincidence.
According to Campbell, living deliberately, rather than allowing oneself to fall into unhealthy (albeit easier) patterns, can add to a sense of meaningful and spiritual living. PsychCentral illuminates this concept with an exercise taken from Imperfect Spirituality intended to help people focus on their goals and values. As per her usual style, the article is approachable and realistic.
About Imperfect Spirituality:
What are the things you've been trying to hide, fix, change, and deny about yourself? These may be the very things that will expand and elevate your life. According to author Polly Campbell, our practices may be imperfect, but our souls never are. Real-life moments sometimes provide the only opportunity for spiritual growth in a day. Imperfect Spirituality: Extraordinary Enlightenment for Ordinary People shows readers how to integrate those every-day moments with traditional spiritual techniques to experience personal growth and greater well-being all in the course of your regular routine.