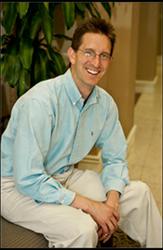 (PRWEB) April 18, 2013
Dr. Charles Payet now performs the Laser Assisted New Attachment Procedure on Charlotte, NC patients needing to eliminate gum or periodontal disease. This new option allows the dentist to use a highly specialized laser instead of the traditional scalpel to remove the infected gum tissue. The laser is so specialized that the healthy gum tissue is unaffected. Patients who have been reluctant to seek traditional treatment should be much more comfortable with the new procedure because it is minimally invasive.
LANAP utilizes the PerioLase MVP-7, which is the only laser cleared by the FDA for dental gum disease treatment. Not only does the laser effectively eradicate bacteria and remove unhealthy tissue, it does not harm the healthy gum tissue or bone and actually stimulates the regenerative process in the bone. It is minimally invasive and little if any discomfort or pain is reported by patients undergoing the procedure. The down time is also short as most patients return to normal activity levels in one day or less.
Those who suffer from periodontal disease may notice red or swollen gums or gums and teeth that are sensitive to heat and cold. The gums may also bleed more easily when brushed. In addition, the advanced stages of the disease are often heralded by receding gums and loose teeth. As challenging as these dental problems are, gum disease has also been linked to serious health conditions such as stroke, heart disease, diabetes and low birth-weight babies, just to name a few. In fact, one's overall health is very connected to one's oral health.
Brushing teeth and gums twice daily and flossing should always be augmented by regular visits to the dentist so that oral health can be monitored. Additionally, it is important to note that treatment in the early stages of periodontal disease is much less intrusive and painful than the more invasive treatment that is often required for the advanced stages of the disease. To learn more about the new LANAP dental treatment for periodontal disease, visit http://www.thecharlottedentist.com.
Dr. Charles Payet is a general dentist offering patients personalized dental care for Charlotte, NC since 1998. Dr. Payet completed his undergraduate degree and attended dental school at UNC-Chapel Hill School of Dentistry. He is part of one percent of dental professionals providing the most recent FDA cleared laser procedure for gum disease and periodontal treatment. To learn more about Dr. Charles Payet and his dental services visit his website at http://www.thecharlottedentist.com.