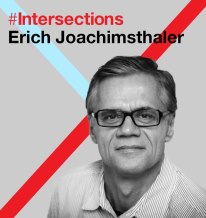 NEW YORK, NY (PRWEB) April 19, 2013
Vivaldi Partners Group, a growth strategy brand and innovation firm, today announced that founder and CEO Erich Joachimsthaler has been selected to speak at the TEDxLondonBusinessSchool on Friday, April 26. This year's conference will focus on the theme of #Intersections, exploring recipes for success in an increasingly intersected world.
Joachimsthaler's session entitled, "Love is not enough: How to build brands and connect with consumers through Social Currency," will feature case studies and best practices for successfully leveraging social currency to build valuable brands. Vivaldi Partners Group had pioneered the concept of Social Currency, defining as the degree to which customers share a brand or information about a brand with others. The presentation will feature case studies from major brands including Burberry, BMW and Nike.
"I am honored to be a part of the TEDxLondonBusinessSchool event," said Joachimsthaler. "I look forward to discussing how the digitally connected world of social technologies, social media, and social networks offers new opportunities for businesses to prosper by building successful brands."
"As social media and mobile devices pervade marketing, the divisions between content, advertising, promotion, and ownership continue to evolve, forcing us to confront all sorts of new intersections. In this context, we're thrilled to have Erich share his unique perspective on building brands. The event has been extremely popular with a diverse audience from across industries in London," said Ira Dubinsky, Chair of TEDxLondonBusinessSchool.
Joachimsthaler's presentation at the conference comes on the heels of Vivaldi Partners Group's recently released Social Currency Impact Study, which explores the new emerging paradigm of how to do business and how to build strong brands in a digitally connected world. The report is based on a global survey more than 5,000 consumers to understand the impact of technology on 60 brands across 19 industries.
About Vivaldi Partners Group
Vivaldi Partners Group (http://www.vivaldipartners.com) is a global firm that unlocks innovation and growth opportunities for brands and businesses in a digitally connected world. Vivaldi Partners Group uses its expertise in strategy, innovation, marketing, and organization to identify new demand-based opportunities, build strong brands, create and realize engaging experiences, and lead change through the development of people. Vivaldi Partners Group comprises of Vivaldi Partners, Fifth Season, a digital, design and technology agency, and E-Edge.
About TEDxLondonBusinessSchool
TED is a global phenomenon devoted to ideas worth spreading. TEDx is a network of local, self-organized events that bring people together to share a TED-like experience. The TED Conference provides general guidance for the TEDx program, but individual TEDx events are self-organized. Our event, TEDxLondonBusinessSchool (http://tedxlondonbusinessschool.com), is entirely organised by students from London Business School and aims to be a platform for debate and discussion on a range of issues. Our audience is made up of professionals from across London, as well as students and faculty.