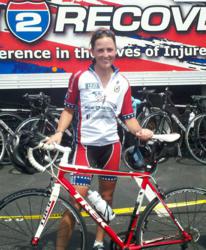 As individual athletes we all had our strengths and weakness but we were able to work together as a team and focus on what we are good at. It gave me hope.
Arlington, VA (PRWEB) April 19, 2013
Walking With The Wounded, a U.K.-based charitable organization that provides support to those wounded in service, recently announced their first multi-national expedition – the 2013 South Pole Allied Challenge. Teams from the U.K., U.S. and the Commonwealth (which includes Australia and Canada) will race to the finish of a 208-mile trek through the South Pole withstanding artic conditions including temperatures of -35°C, 50 mph winds and hauling more than 150 pounds of gear. As part of its ongoing mission to support wounded, ill and injured troops through their recovery process, the USO will sponsor one athlete, Margaux Mange, from the U.S. team as she prepares for and undertakes the 2013 South Pole Allied Challenge.
"As the USO looks for new ways to continuously support our troops through their recovery process, we are grateful for the opportunity to support unique programs like Walking With The Wounded's 2013 South Pole Allied Challenge," said Susan Thomas, Vice President, USO Warrior and Family Care. "We are especially proud to be able to support Margaux as well as follow the entire U.S. team as they build their hope and confidence for an even brighter future along this exciting journey to recovery. It's important that our healing heroes know that they are not recovering alone and that America is there for them and will always be by their side."
Mange, who is living with post-traumatic stress, traumatic brain injury, chronic neck and face pain and residual issues with Bell's Palsy, was medically discharged from the US Army in 2007 for injuries sustained when her vehicle was hit by an IED blast in December 2006. Not realizing the extent of her initial injuries, Mange continued her service in theater for several more months until she witnessed her best friend and two others killed in another IED blast. Mange developed Bell's Palsy due to guilt and stress. She was sent to Germany for medical treatment at the Landstuhl Regional Medical Center, where doctors diagnosed her with multiple injuries from the December 2006 blast. As part of her recovery process, Mange has undergone speech therapy, hyperbaric oxygen treatment and has her service dog, Mush, to help her deal with social anxiety. Being active and outdoors is what she counts as one of her biggest rehabilitative tools.
Mange is no stranger to the USO. In addition to her USO-sponsored spot on the 2013 South Pole Allied Challenge U.S. team, Mange will be competing in the 2013 Warrior Games which the USO has been a proud supporter for four straight years. The Warrior Games will take place at the U.S. Olympic Training Center May 11-16, in Colorado Springs, Colo. Mange will be competing in both cycling and track and field events. Additionally, Mange has participated in numerous USO supported Ride 2 Recovery challenges. Ride 2 Recovery incorporates cycling as part of the treatment of invisible and visible wounds troops face upon returning home. The rides are not just an opportunity for wounded, ill and injured troops to test their physical limits, but to prove they can conquer even the toughest physical and emotional challenges. The riders share the road and their life experiences with each other.
"One of the things I miss most about being in the military is the camaraderie that we shared. When I went to Iceland to train and compete for a spot on the U.S. team that was the first time I'd felt that feeling in a long time. It made me feel good and reminded me of the person I was before my injuries," Mange said. "As individual athletes we all had our strengths and weakness but we were able to work together as a team and focus on what we are good at. It gave me hope. I am looking forward to completing the Walking With The Wounded South Pole Allied Challenge and am proud to be supported by the USO, and thank them for being by my side as I train for and undertake this huge milestone in my life."
Walking With The Wounded worked closely with Soldiers to Summits, a non-profit organization that helps people unleash the power of their human spirit by encouraging them to transcend barriers, to select potential U.S. team members. In March, selected wounded warriors from the U.K., U.S. and Commonwealth traveled to Iceland and competed for a spot on the final three teams.
Edward Parker, Co-Founder of Walking With The Wounded, said "We are honored to have the support of the USO in this epic challenge and we are very proud to be able to work with organizations in the U.S. that have similar values and aims as we do. In both the U.K. and U.S., our wounded need to be able to look to the future with hope and believe they can continue to challenge themselves. By embarking on our expedition, we hope many will follow us and they will be inspired to set new goals, new targets and show others that despite injury they can still achieve great things. Margaux will be an example to many."
More than 40,000 troops have been visibly wounded in the conflicts in Iraq and Afghanistan, and some estimate more than 300,000 troops are living with invisible wounds, such as post-traumatic stress or traumatic brain injury. Our wounded, ill and injured servicemen and women and their families face many difficult challenges when they return home, and the USO is doing all it can to sustain their hope for a happy and fulfilling future. One of the ways the USO does that is by supporting best-in-class partners like Walking With The Wounded and the 2013 South Pole Allied Challenge.
The 2013 South Pole Allied Challenge U.S. team is comprised of Mange, Ivan Castro, Therese Frentz and Mark Wise. A daunting adventure for any athlete, factor in that every team member is recovering from either physical or invisible wounds of war making this race a challenge like no other. The teams will use the coming months to train and prepare for the November 2013 race.
# # #
About the USO
The USO lifts the spirits of America's troops and their families millions of times each year at hundreds of places worldwide. We provide a touch of home through centers at airports and military bases in the U.S. and abroad, top quality entertainment and innovative programs and services. We also provide critical support to those who need us most, including forward-deployed troops, military families, wounded warriors and families of the fallen. The USO is a private, non-profit organization, not a government agency. Our programs and services are made possible by the American people, support of our corporate partners and the dedication of our volunteers and staff.
In addition to individual donors and corporate sponsors, the USO is supported by President's Circle Partners: American Airlines, AT&T, Clear Channel, The Coca-Cola Company, jcpenney, Jeep, Kangaroo Express, Kroger, Lowe's, Northrop Grumman Corporation, Procter & Gamble, and TriWest Healthcare Alliance and Worldwide Strategic Partners: BAE Systems, The Boeing Company, Lockheed Martin, Microsoft Corporation and TKS Telepost Kabel-Service Kaiserslautern GmbH & Co. KG. We are also supported through the United Way and Combined Federal Campaign (CFC-11381). To join us in this patriotic mission, and to learn more about the USO, please visit uso.org.