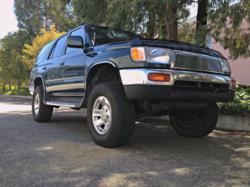 Morgan Hill, CA (PRWEB) April 19, 2013
The garage at Andy's Auto Sport is a laboratory of sorts; filled with people constantly looking for new ways to improve and alter their stable of project vehicles. Their latest experiment takes the form of a spacer lift kit implemented on a 1996 Toyota 4Runner. Their focus of late seems to be in the suspension department, as they did something seemingly similar to their project F250 last week. However, this new kit is a bit different, as they've come to realize.
The Revtek spacer kit as used on Andy's Project 4Runner is a product for a specific audience. What this particular kit offers is a raise in ride height and the ability to use larger wheels and tires. Achieving this by adding preload to the front springs and spacing the rear coils down, this Revtek spacer kit adds lift for a completely reasonable price. In fact, it is one of the least expensive lift options out there, and it is relatively easy to install – the most difficult part was installing the front spacers. The end result is a Toyota 4Runner that rides three inches higher than stock and looks very imposing, indeed!
With keeping the stock springs in place, the suspension travel, and therefore the ride quality, is nearly identical to stock. Thus, the Revtek spacer kit is the most cost-effective way to attain the lifted look, but it won't necessarily provide the kind of handling one is looking for if extreme, off-road driving is on the menu.
In contrast,the Fabtech lift kit installed on the project F250 was much more of an ordeal. While offering 10.5" inches in lift when combined with larger tires, the Fabtech kit also requires some modification to the steering and suspension systems. Fortunately, the installation is quite straightforward and includes all necessary parts, but it is evident that it is more of a time – and financial – investment when compared to the Revtek kit. In fact, a one-man installation of the Revtek kit takes roughly 1/3 of the time it takes one man to install the Fabtech kit, and it costs roughly a 1/6 of the price. Obviously, the Fabtech kit provides a full-fledged off-roading setup, whereas the Revtek appeals more to the person who is content driving on the streets, but wants a raised platform to do it with.
The guys at Andy's Auto Sport understand how cars are a way for people to express themselves – and all types of auto-enthusiast are taken into account in the Andy's garage. While some aficionados prefer every bell-and-whistle, others simply want what helps achieve their immediate goals, and the catalog at Andy's Auto Sport reflects that.
With intended modifications on the horizon, the project 4Runner is sure to turn heads inside and outside the garage. Planned installation of 6x8 Pro Comp La Paz Series 29 wheels and LT285/75R16 Pro Comp Radial X-Terrain tires are sure to give the Toyota all the hardcore looks one could hope for, all at a reasonable price!
For more information, visit AndysAutoSport.com, AndysAutoSportTV.com, or YouTube.com/AndysAutoSportTV.
Andy's Auto Sport is an online retailer and wholesaler of OEM and aftermarket automotive parts and accessories, and is the largest retailer of aftermarket body kits in the world, with more than 2 million unique online visitors per month. The company serves customers worldwide and has been featured in magazines such as Import Tuner, Modified, Low Rider, Truckin', as well as on television shows such as Pimp My Ride, Street Fury, Trucks!, and Two Guys Garage.