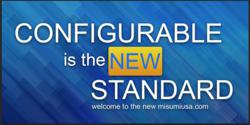 We wanted to make product selection and ordering faster, easier and more convenient for OEMs, engineers and purchasing agents.
Schaumburg, IL (PRWEB) April 19, 2013
MISUMI USA, Inc., a subsidiary of MISUMI Corporation, part of MISUMI Group, Inc., announces that it has launched a new version of its Website ‒ http://www.misumiusa.com. The new site incorporates many functional enhancements to MISUMI's Website of mechanical components for automation machinery and assembly, as well its Press Die and Plastic Mold components.
Key advantages of the Website include convenient product search options and navigation tools designed to make it faster and easier for design engineers to search, find, select, configure and order the components and accessories they need in just a few clicks.
The Website's new search modes include:

Visual Product Category Search. Offers the broadest perspective on MISUMI's comprehensive catalog of components for factory automation with full screen viewing of clear product images. Among the product categories are: Linear Motion, Locating and Fastening Components, Sensors & Switches, Bearings, Pneumatics & Hydraulics, Conveyors, Aluminum Extrusions, Pipes and Frames. By checking off or inputting options in the left column navigation menu, users can narrow down their search visually by product type and model. A list of available component choices appears instantly in the center panel, where they can click on the Detail icon to view a graphical, side-by-side technical comparison and indicate the product specifications required for their application. This highly intuitive visual approach significantly streamlines the product selection and configuration process.
Part Number Search. Provides a fast path to product selection for users who already know the MISUMI component of interest. Upon starting to enter a part number, a menu box auto-suggests available options. Once the choice is made, the CAD Configurator landing page for that part appears and allows users to quickly download the existing CAD drawing, or to re-configure the part to meet new design specifications. MISUMI's CAD downloads save engineering time by eliminating the need to create new drawings.
Key Word Search. Users can enter a key word or phrase describing what they are looking for, such as "couplings," and a landing page appears featuring a complete selection of products answering the key word description. As in the Product Category search, the left hand column allows users to drill down by selecting product type and models, and the center panel offers a Detail view for comparing key technical specifications and selecting the specific product for the application.
The new MISUMI USA Website combines intuitive navigation with broad and deep functionality to dramatically reduce the time and effort needed to find and purchase exactly what they need. Registered MISUMI users can obtain a quote, compare delivery times and pricing, confirm part numbers, and download native CAD data files for integration into their design. And, should a user have a question or require additional technical assistance, all it takes is a simple email inquiry or phone call to our engineering support staff regarding the specific product.
According to David Basken, MISUMI USA Senior Product Manager, "We wanted to make product selection and ordering faster, easier and more convenient for OEMs, engineers and purchasing agents. With our new Web search modes and configuration tools, customers can complete their transactions in a matter of minutes rather than hours or days." For a limited time only, both the new MISUMI USA Website and the existing site will be available online.
With no minimum order requirement or set-up charges, MISUMI has built its reputation as the premier global supplier of high quality factory automation configurable components. At the heart of the MISUMI business model is the unique on-demand CAD Configurator and easy to navigate website. This unique business model offers customers an effective strategy for reducing costs and gaining competitive advantage through streamlined production and assembly processes and faster time-to-market.
About MISUMI USA, Inc.
Located in Schaumburg, Illinois, MISUMI USA, Inc. was established in 1988 as a Subsidiary of MISUMI Corporation, a part of the MISUMI Group. MISUMI USA, Inc. is a leading supplier of fixed and configurable components such as bearings, single axis actuators, linear shafts, aluminum extrusions, locating pins, linear guides, XY Stages and other components for factory automation, plastic mold and press die industries. For a complete list of available components, please visit MISUMI USA.