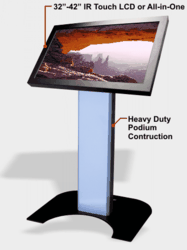 LAT-Central is like sitting at NASA Control Center - I can see status of each machine, can monitor screens as patrons do transactions.
Somerdale, NJ (PRWEB) April 23, 2013
LAT Inc, a leader and innovator in library automation, is pleased to introduce a new release of its well established and well known LAT-Central Reports and Analysis System. Unlike previous releases, the new system allows easy and visual "drill-down" and analytical capabilities to the aggregate data. In addition to extensive reporting and analysis capabilities, user can poll any network-attached unit at any time, make changes to local environment, or initiate circulation desk assistance session with patron at the target circulation device!
In business-practical terms, this capability means that any size library can now monitor and assist patrons doing circulation transaction at tens or even hundreds of deployed remote circulation systems. These systems could be at the stacks, various library exists, multiple floors, or multiple buildings scattered across town or the large county - as long they are network accessible - a single person with aid of LAT-Central can monitor, assist, instruct, interfere, and in other ways help patrons all from single location.
In addition to traditional reports, LAT-Central provides numerous predefined graphical data representation as well as ability to customize and create new reports and graphics as needed.
LAT-Central is provide free of charge to all LAT Customers. Libraries, which are not current LAT Customers are invited to inquire by contacting LAT directly at 856-566-4121 or via web: http://www.LATcorp.com.