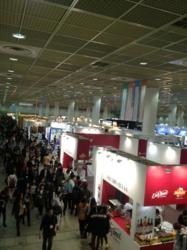 Hub for the booming Korea coffee industry and meeting-place for thousands of coffee buyers.
Seoul, South Korea (PRWEB) April 19, 2013
40,000 visitors filled the aisles of Coffee Expo Seoul 2013 from April 11th to the 14th, as coffee business, buyers and enthusiasts rushed to experience the many coffee-themed exhibits on offer at Coex, Seoul. 150 companies spread over 380 exhibition booths displayed a wealth of products ranging from state-of-the-art coffee roasters and machines, to ground coffee and coffee beans, teas, accessories, snacks, syrups, coffee art and more. Top-name brands included Breville, Fuso International, Monin, and a vast selection of national enterprises.
A special focus of this year's Coffee Expo Seoul was the Mint Label New Product Preview, a zone showcasing recent products and developments in the field of coffee from domestic Korean brands. Products within the Mint Label zone included traditional Korean themed coffee dispensers and tempers, and hand-made luxury dutch coffee machines.
The expo also saw the hosting of the second World Super Barista Championships, with a variety of heats and accompanying entertainment and performances spread over the four days of the event. Concurrent educational seminars from top domestic and international baristas and coffee experts, as well as presentations by some of the world's top coffee-growing countries, were also popular.
A shift in Korea from a market based mainly on pre-mixed and instant coffees to roasted and espresso based drinks over recent years has led to the Korean coffee market emerging as one of the strongest and fastest growing in the world. Seoul now boasts the highest concentration of coffee shops anywhere on the globe, with the capital in particular seeing the emergence of many smaller, independent coffee shops offering specialty and hand-drip coffees to compete with their larger, chain-store counterparts.
With the ongoing support of the Korea Coffee Association, Coffee Expo Seoul 2014 is expected to further build on this year's success. To sign up for a newsletter to keep up to date on Coffee Expo Seoul news, please visit the website http://www.coffeexpo.info.
Like Coffee Expo Seoul on Facebook: http://www.facebook.com/CoffeeExpoSeoul
Follow Coffee Expo Seoul on Twitter: https://twitter.com/CoffeeExpoSeoul