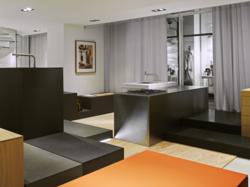 As visitors moved around the space, they experienced juxtapositions and new points of view. They were invited to relax, talk to one another and reflect on what living spaces mean in the 21st century.
Los Angeles (PRWEB) April 19, 2013
German kitchen manufacturer bulthaup recently hosted a conceptual kitchen installation at its Via Durini showroom in Milan, Italy during Salone del Mobile 2013. Visitors to the showroom from April 9-14 experienced a kitchen that challenges conventional views of the all-important interior space. The water point was installed at a height where they had to stretch to reach the faucet. Visitors looked down and saw a cooktop at their feet. And the countertop was designed as a welcoming place to take a seat, to name a few surprising elements.
The installation was assembled from bulthaup b3 elements of varying heights, colors and materials arranged on steps and platforms made from concrete, stone, brand new hand painted lava tiles and well-worn floorboards. As visitors moved around the space, they experienced juxtapositions and new points of view. They were invited to relax, talk to one another and reflect on what living spaces mean in the 21st century.
bulthaup showcased the full potential of the flexible and ever-changing b3 system. Available in a range of widths, heights, depths, materials, surface finishes and colors, the various elements can be combined in any number of ways. No two bulthaup kitchens are the same. Each one is designed and manufactured in line with the unique requirements, lifestyles and traditions of families, couples or individuals. And people leave their own personal stamp on the kitchen space, as they use it, live their lives in it and make it their own by adding items over time.
With this in mind, the exhibition included a selection of accessories and utensils arranged according to the function they serve: preparation, cooking, presentation, storage and washing. The minds behind the Milan installation, artist and photographer Florian Böhm and art director Annahita Kamali, gathered these items from all over the world. They created a library of 200 cookbooks from around the globe that visitors were invited to explore.
bulthaup also included a one-of-a-kind panel wall in the installation. A fresh twist on the multifunction wall, personal objects – from valuable heirlooms to contemporary objets d'art – can be stored and displayed in the space behind the panel. Cherished items can be showcased in an open-fronted brass cube, which can be positioned freely on the horizontal plane. In another section, the panels slide open vertically with a gentle touch. A pull-out on the bottom revealed functional prisms lined with saddle leather, where a selection of fine wines, spirits and drinking glasses were displayed.
The Via Durini installation showed how the b3 system can be used to create an architectural landscape that speaks to all senses. By experimenting with materials, surface finishes, colors and a variety of forms, it demonstrated how a kitchen's aura evolves – through the interaction of predefined elements with the unique fingerprints of people's lives. Just like the traditional Japanese wabi-sabi philosophy, the resulting contrast celebrates the beauty of imperfection. The authenticity of the installation was clear as hundreds of visitors per day entered, sat down, stood up, felt the materials and explored the space on multiple levels.
About bulthaup
bulthaup's philosophy is clear: every detail has a purpose. The company's signature kitchens are revered for their clean lines, ergonomic layout and precision German engineering and manufacturing – all of which are fundamental to creating timeless living spaces that are meant to be used. bulthaup systems suit any aesthetic or environment and strike a perfect balance between the home's architecture and the way one lives. Proprietary seamless interior components, premium wood veneers and precision hardware are a few of the details that reflect the high level of craftsmanship associated with the bulthaup brand. From modest to premium collections, all products are built to the highest possible standards. Founded by Martin Bulthaup in Germany in 1949 and led by Marc O. Eckert in the 3rd generation, the company remains a family owned and operated entity with showrooms in more than 50 countries, including showrooms in major markets throughout the United States.