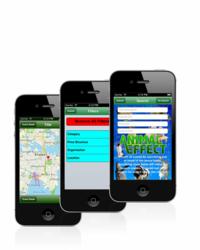 A united events platform for animal lovers.
Sydney, NSW (PRWEB) April 21, 2013
Animal lovers, event organizers, and charities all over the world can finally have uninhibited access to news and events of their interest. Sydney-based organisations—Communicate31 and Software Synergy Pty Limited—have worked to develop Animal Effect App, the first ever application of its kind that has united events and communication platform for advocates, organisers, and animal lovers across the globe. Users of this app can find out about animal related events of their interest without having to rely on website, e-mail, word-of -mouth, notice boards, Twitter, or newspapers. As a result, they will never miss an event of their interest, even when they are in an unknown town.
Users of this application will not only be able to navigate the list of upcoming events, but the app also provides maps with all details so that they can find out the exact location easily. It is also possible to share these events with friends via email and text. The event filtering function allows users to search for events of their choice. The news feature provides access to animal related news with links to the original listing. Animal Effect App users will no longer miss an event just because they were not on the correct email list or Facebook page.
Animal Effect App promises to be a useful tool for charities and event organizers as both live and virtual events can be listed free of charge using this application. This will assist them in increasing the attendance at these events. Animal Effect App has already available in iTunes Australia store and will be available for the Android users by the end of June. The developers of Animal Effect App are donating 20% of the purchase price of $5.49 to different animal groups and charities.