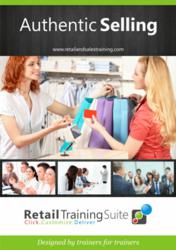 There are generally six or seven things top performers consistently do that mediocre employees don't.
(PRWEB) April 25, 2013
Retail training needs to be short and sharp, focused on providing staff with the precise skills they need to maximize sales as soon as possible.
There are generally six or seven things top performers consistently do that mediocre employees don't. If managers focus training retail staff on these key behaviors, a noticeable lift in sales and service will occur. Authentic Training has developed a suite of retail training tools focused on these critical skills and behaviors to be used throughout all stages of an employee's journey. Company founder Melissa Davies says – "Great retailers communicate service standards from day one, train to them and coach to them. There isn't just one thing that makes the difference to service and selling, but lots of little things. It's a continual journey and so there are a number of training tools managers need along the way".
The key to successfully training retail staff starts on day one. An employee handbook and induction plan is a must for communicating clear and consistent messages and ensuring staff know what's expected of them and what to focus on.
Great retailers also have customer service team plans with goals that they continually revisit. They encourage their team to continually ask 'where are we and where do we need to be'? Great managers realize they get more of what they focus on, and so they keep their team focused on these service goals. They use every time a new team member comes on board as a great opportunity to revisit the plan and engage their team.
Once a manager has communicated service standards and focused their entire team on them, it's time to train to them. Many team members lack the skills required, like up-selling for example, and so it's not enough to communicate importance, managers need to show how. A great training package is essential for providing staff with selling tips and techniques. It must also be quick and easy to deliver, so it doesn't impinge on store trading activities.
Finally, great retailers focus their fortnightly catch-ups on these exact skills and behaviors. Too many managers have no structure to their coaching sessions, and so they have little impact.
Authentic Training has developed an entire suite of training and coaching tools to help retailers increase service and sales. From induction plans, customer service team plans, coaching and feedback forms and advanced sales training, everything a manager could possibly need is at their finger-tips. In a 'done for you' format the training is easy and fun to deliver. Best of all, it contains the very best retail training tips from around the world which means managers – regardless of their budget, can deliver a world class training solution themselves from as little as $27.