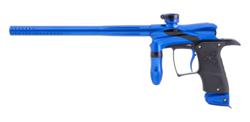 The g5 paintball gun will rock your world.
(PRWEB) April 19, 2013
Dangerous Power G5 paintball guns are now offered with new colors and discounted at $299.99.
Dangerous power paintball is the most ingenious place in the world of paintball. Through their commitment to quality and service, they have earned the fastest growing fan base in paintball industry. Looking forward to Dangerous power's engineering the next creation for the player to choose is the G5, which is patterned after the ultra-rare threshold and the cutting edge simplicity offered by the G4. Paintball players can play with confidence knowing that they possess the world's finest engineered paintball guns, and all products are backed by the finest warranty in the paintball industry.
DP Engineering continues to strive for the exceptional design, combined with the standards of today's players. Dangerous powers' years of experience in craftsmanship and intricate design brings forth a high quality marker loaded with features such as the Stinger Frame, Wave Trigger, Subsonic Bolt Engine, & Riptide Regulator. DP is proud to proclaim the intricacy in design, simplified by Engineering, the all new G5 is staying ahead of the curve.
For more information visit
http://www.actioncenterpaintball.com
http://www.paintballguns.tv