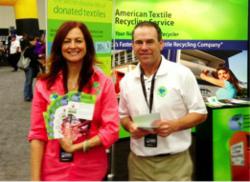 "By cleaning out their closets and donating into our distinctive globe logo bins, Michiganders can make it Earth Day everyday and support this worthy cause."-- Mike Spath, ATRS Michigan Operations Manager
Rochester, MI (PRWEB) April 20, 2013
American Textile Recycling Services (ATRS) returns to the Michigan Earth Day Fest Friday, Saturday and Sunday, April 26-28, 2013 in Downtown Rochester, Michigan to share the environmental and charitable benefits of textile recycling with communities in the Mitten State.
One of the largest Earth Day celebrations in the U.S., Michigan Earth Day's mission is to "Make Every Day Earth Day" by bringing together local community organizations and businesses whose focus is to encourage green and sustainable living through their products and services. Sponsors and exhibitors of the fest include Republic Services, GreeningDetroit.com, and Meijer. As one of the two textile recyclers featured at Michigan Earth Day, ATRS will have a festival booth where attendees are encouraged to bring a bag of unwanted clothes, shoes, toys, and household items to be recycled.
"We are proud to support Michigan Humane Society through our textile recycling partnership in Michigan," says Mike Spath, ATRS Michigan Operations Manager. "By cleaning out their closets and donating into our distinctive globe logo bins, Michiganders can make it Earth Day everyday and support this worthy cause."
ATRS is the fastest-growing textile recycler in the U.S. Its socially responsible business model provides free textile recycling solutions for the public, job stimulation for local communities and abroad and much-needed funding for worthy local charities. With branches in 11 markets including Texas, Florida, Michigan, Tennessee, Atlanta, Oklahoma, Arizona, Colorado and Southern California, ATRS Recycling is committed to keeping textile waste from local landfills and promoting a greener tomorrow.
For more information about ATRS, our recycling bins, where the donations go, or how to host a recycler, please check out our website. Like us on Facebook and follow us on Twitter and Instagram. Press inquiries please contact marketing(at)atrsonline(dot)com.