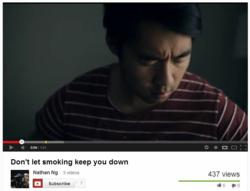 'Don't Let Smoking Keep You Down' hit the right balance for me, subtly tackling the issue of impotence while visually showing the effects of tobacco on athletic performance
Sarasota, FL (PRWEB) April 19, 2013
Producers and Physicians Advocating Stopping Smoking (PPASS) today announced the winners of the 'Smoking and Sex' video contest and the launch of the next video challenge in the 'Tobacco Sucks' video campaign. The PPASS filmmaker initiative is supported through an unrestricted grant from the Quit Doc Research and Education Foundation to facilitate putting the edge back into anti-tobacco education and increase awareness of the detrimental aspects of tobacco use.
For the 'Smoking and Sex' video challenge contestants were asked to create a 60-second video highlighting the deleterious effects of smoking upon human sexual performance and response. The first place winning video was 'Don't let smoking keep you down' by Nathan Ng, who has won an iPhone 5 for his efforts. Second place winner of a $200 gift card was 'Lousy Lumberjack' by Ádám Hegedűs and third place winner of a $100 gift card was 'Better Sex? Quit Smoking' by Daniel Wentz.
Contest judges included television producers Kevin Harris and Brandon Li, director Jason Letkiewicz and doctors with the Florida-based Quit Doc Research and Education Foundation. Brandon Li, a producer of MTV's True Life series, stated that it was "great to see people putting their filmmaking talents toward a unique message." Filmmakers interested in seeing the current entries and in being notified of the next contest should subscribe to the Quit Video YouTube Channel and like the PPASS Facebook Quit Video page.
"The quality of the videos submitted were remarkable, with tight messaging, high production standards and engaging stories," said contest judge Dr. Kirk Voelker of the Quit Doc Research and Education Foundation. "We were hard pressed to choose only three winners. We are really looking forward to seeing the efforts of and creativity of young filmmakers with the next video challenge taking on the notorious marketing strategies and tactics of 'Big Tobacco. This is also a wonderful opportunity for aspiring filmmakers to have their work viewed by entertainment industry leaders"
"As a Pediatrician, I was drawn to the entries that delivered the message in a clever, less explicit way that I thought would reach teenagers. 'Don't Let Smoking Keep You Down' hit the right balance for me, subtly tackling the issue of impotence while visually showing the effects of tobacco on athletic performance," said Barry Hummel., Jr., MD and Quit Doc Research and Education Foundation board member.
"Lousy Lumberjack tackled the issue of smoking and sex in a straight-forward and funny way that will be appealing and memorable to those it's intended for," said Kevin Harris of K Sirrah Productions, Inc. "This is a subject that cannot be a jagged pill. I produced the Baby Borrowers for NBC and we dealt with the subject matter of teen pregnancy in a relatable and entertaining way - this caught the eye of the target market and succeeded in getting teens talking about the subject without even knowing it - Lousy Lumberjack does that as well."
Kevin Harris is an Emmy nominated producer with more than 125 hours of primetime programming to his credit. Kevin was also nominated for the prestigious Producer of the Year Award from the Producers Guild of America for 'The Apprentice'. He helped launch the Apprentice and Co-Executive produced the series through its 5th season. Kevin also produced the spin off series – The Apprentice Martha Stewart. In addition, he produced the critically acclaimed NBC series The Baby Borrowers, which was recognized by school districts across the country as an educational entertainment program. Kevin has also Executive Produced for MTV, Discovery Channel and HGTV.
Director for MTV and EUE Screen Gems Jason Letkiewicz noted that the 'Don't let smoking keep you down' video "had a good blend of humor and substance which is hard to do in prosocial work. The cinematography was great. Not so sure if the soundtrack choice of "Don't Worry" sent the right message however."
Regarding the 'Better sex? Quit Smoking,' video, Jason said that "Using what girls talk about when guys aren't around as a way to talk about this was a great way in for this subject matter. The only reason I didn't place this video higher was because the story was very subjective in nature, but it was shot very objectively, which took me out of it. This story is from the girls POV but the kinds of moments she remembers from her sex-filled weekend all felt like they were from the POV of somebody watching from the corner, so in execution it came across as being exploitive rather than having that right amount of raunchiness and sex appeal."
The next challenge in the Tobacco Sucks Video Contest Series is to take on the marketing tactics of 'Big Tobacco.' PPASS encourages filmmakers to spoof, satirize and criticize how Tobacco is marketed by researching, writing, shooting and submitting a 60 second video. Anything is fair game except for profanity or nudity. Entries will be submitted by using YouTube's video reply button to upload new videos to the upcoming posting of the 'Tobacco Marketing' contest announcement video on the YouTube QuitVideoChannel.
The Quit Doc Research and Education Foundation supports Producers and Physicians Advocating Stopping Smoking (PPASS) through an unrestricted grant and is not responsible for the content of any videos created through PPASS.